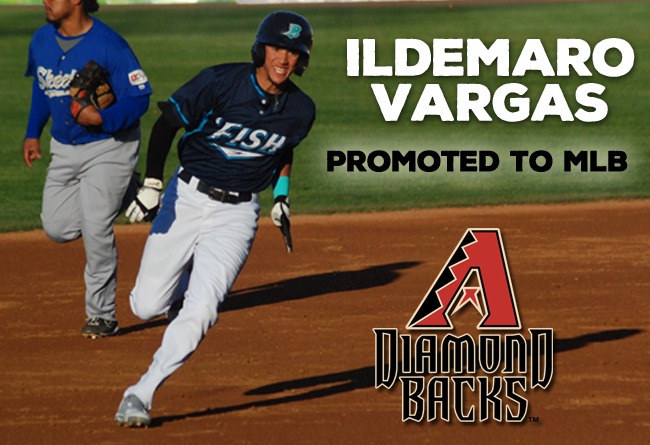 Vargas becomes second-ever Bluefish to make it to MLB for the first time after playing for Bridgeport

(Bridgeport, Conn., June 29, 2017) – 2015 Bridgeport Bluefish infielder Ildemaro Vargas has been promoted to the Major Leagues with the Arizona Diamondbacks. Vargas was called up from Triple-A Reno of the Pacific Coast League, where he was hitting .307 with six home runs, 43 RBI, and 64 runs scored across 73 games.

"It's great to see Ildemaro receive this opportunity and have his dream of reaching the big leagues come to fruition," said Bluefish General Manager Paul Herrmann. "He was an exemplary player for us in 2015 and worked hard to get where he is today. We wish him the best of luck."

The Venezuela-native joined the Diamondbacks organization midway through the 2015 season, which he began in Bridgeport. He was assigned to Single-A Kane County of the Midwest League, and finished that season with a .321 batting average, five home runs, 39 RBI, 62 runs scored, and nine stolen bases in 86 games. 2016 proved to be Ildemaro's standout year, as he was promoted to Double-A Mobile (Southern League) and then Triple-A Reno (Pacific Coast League). In 133 combined games, he collected a .305 batting average with six home runs, 37 RBI, 76 runs scored, and 21 stolen bases.

Before his contract was purchased by the Diamondbacks organization in May 2015, Vargas was a standout player for the Bluefish. In 30 games so far that season, he was hitting .273 with eight RBI, 17 runs scored, and seven stolen bases.

Vargas is now the second-ever Bluefish to reach the Major League level for the first time after playing for the Bluefish. Brock Peterson was the first to do so, making his MLB debut with the St. Louis Cardinals in 2013 after playing two seasons with the 'Fish in 2011 and 2012.

About the Bridgeport Bluefish

The Bridgeport Bluefish are members of the Atlantic League of Professional Baseball and play their home games at The Ballpark at Harbor Yard. For further information, call 203-210-BLUE (2583) or visit www.BridgeportBluefish.com.

About the Atlantic League of Professional Baseball (ALPB)

The Atlantic League has been a leader in professional baseball and a gateway to Major League Baseball since 1998. Over 36 million fans have attended Atlantic League games and more than 800 players and 50 managers and coaches have joined MLB organizations directly from the ALPB. The Atlantic League emphasizes winning baseball games, showcasing the talent of top-caliber players and offering affordable family entertainment to metropolitan markets serving nearly 15% of the US population.

For more information, please visit www.AtlanticLeague.com.

###