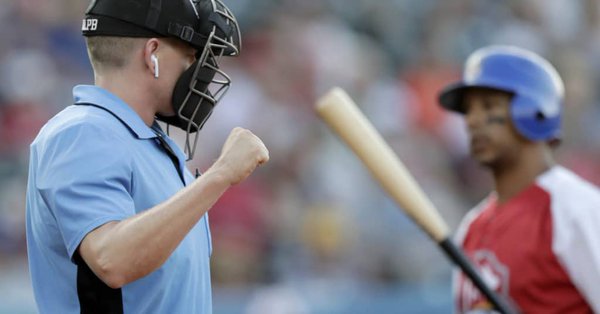 By: Dan Connolly for "The Athletic"

YORK, Pa. – The concept has fascinated for years: a robot umpire.
If the technology is there, why not get rid of the human version of the ball-and-strike arbiter with a computerized system that maintains a consistent strike zone from inning to inning and game to game?
Well, now the technology is here.
On Wednesday evening, in partnership with Major League Baseball, the independent Atlantic League rolled out the Automated Ball-Strike System (ABS) during its All-Star Game at PeoplesBank Park.
Throughout Wednesday's game, a 3D-Doppler radar screen attached to the roof of the stadium directly behind home plate registered pitches and sent the information to a laptop computer integrated with TrackMan data. That strike-ball info was then transmitted from the computer in the press box to home-plate umpire Brian deBrauwere, who carried an iPhone with Bluetooth in his pocket and wore an Apple AirPod wireless headphone in his right ear.
After each pitch, he'd hear the ball or strike directive and then make the call on the field, with only a second or two lag in the execution.
For the most part, it worked. But there were some minor glitches – not surprising considering this was the first full implementation of the technology within an entire game.
There was a three-pitch period in which deBrauwere didn't receive a signal from his phone to the earpiece. Then, in the middle of the game, the system lost connection for a half-inning, requiring deBrauwere to do what he's done for a decade as a pro umpire. He went old school – like back to last week — and called balls and strikes until he had a break in between innings and the connection could be restored. That took roughly a minute. And it was imperceptible unless you were watching deBrauwere's every move.
TrackMan data – used in the majors and MLB-affiliated minor-league teams to record information such as launch angle and exit velocity – already was established for a chunk of the Atlantic League All-Stars, since many have been in affiliated pro ball in the past five years. Therefore, their strike zones, based on attributes such as height and stance, were already created in the database. That allowed the system to adjust the chest-to-knees zone for each individual player.
Still, it wasn't foolproof. One hitter was rung-up on a two-strike fastball that was clearly low, but apparently nicked the bottom of the zone as it headed to the dirt. Those kinds of alterations should get made as all eight Atlantic League parks use the system in the second half of the season.
But on the evening it made its pro debut with significant fanfare, the ABS was fairly seamless. To the point that one pitcher, Southern Maryland's Daryl Thompson, didn't realize it was being used until his catcher informed him after he pitched. The only clues, Thompson said sheepishly, were that he once got the ball thrown back to him before deBrauwere raised his hand to indicate a strike. And he also noticed the ump had an AirPod.
"It was crazy because I saw the earpiece in the umpire's ear, but I didn't think anything of it when I was out there," Thompson said.
That's the hope for this new technology, one that ultimately could be used in affiliated minor-league games and, perhaps, in the majors one day: that no one really notices.
On Wednesday, though, it was the story. A legitimate curiosity for media, players, fans and staff.
Here's an inside look from a cross-section of those who experienced it.
The home-plate umpire
The 36-year-old deBrauwere, who made it as high as the Triple-A International League, said he was chosen to be the RoboUmp's companion Wednesday because he lived in Hershey, Penn., about a 45-minute drive from York, and was available to make a dry-run with the equipment on Monday.
Those who know deBrauwere, however, say he was selected because of his unflappable demeanor. If things went temporarily wrong Wednesday under the glare of the national spotlight – media outlets at the ballpark included Central Pennsylvania newspapers and TV stations as well as The Athletic, The Washington Post, the Associated Press and sporttechie.com – deBrauwere wouldn't flinch.
And he didn't when he lost Bluetooth connection and umped a frame without using the technology. He said he was prepared to take over; it's what any home-plate umpire would do with the automated system in place.
"I have to umpire every pitch of a game like it's going to be missed by the system because I never know when that's going to happen," he said. "So, I try to do that and, then, when I didn't get a readout, I tried to stay with whatever I thought was accurate and go from there."
He said, in comparison to other umpires, he might be a little on the slow side in making his calls, so the slight delay didn't bother him. There was some interpretation needed, though, when he was forced to call the half-inning himself. He wanted to mimic the system's zone – which wasn't much different from his besides being a little tighter on the corners and a little more liberal up and down.
"I was kind of trying to understand what the system has been calling and keep it as consistent to that as possible," he said. "Because it wouldn't really be fair to the hitters for the zone to completely change in the middle of the game and then change back. So that's gonna be one of the challenges for us umpires in this league."
All told, he said there were only a few pitches in the game that were different than what he would have called. And he felt like it went smoothly. He even kind of enjoyed it, though he admitted the attention was a little more than he initially expected.
"It was a little bit stressful to start just because I've gotten so used to doing something in a certain way. And I had to change that pretty significantly. But once I got comfortable with someone talking in my ear and kind of the timing of it all, I think I got into a little bit of a flow and relaxed a little," he said. "But it was a little bit nerve-wracking. I didn't want to screw anything up and make a mockery of it while (the media) was here."
The veteran starting pitcher
York Revolution right-hander Mitch Atkins has had plenty of high-pressure moments in his 16-season pro career. He made 10 appearances in the majors from 2009-11 for the Chicago Cubs and Baltimore Orioles.
In 2011, his big-league starting debut came against the defending AL-champion Texas Rangers in Arlington, and he allowed one run in six innings.
So, at age 33, throwing the first pitch to an automated system in an exhibition game in an independent league isn't exactly butterfly-inducing.
But, hey, Atkins had a mission with the first pitch.
"I was just trying to throw a strike, really trying to throw it down the middle. A fastball down the middle is gonna be a strike with an umpire or a TrackMan," Atkins said. "So, I wasn't really nervous. I'm always a little anxious before games, but TrackMan doesn't really affect me."
His first pitch of the All-Star Game was, indeed, a waist-high fastball to Justin Pacchioli of Somerset. A no-doubter called a strike. And with that, Atkins was in the history books. Not something the easygoing Carolinian was too concerned about.
"I haven't really thought about it in detail. I guess I'm still more in game mode and not really thinking about the future of TrackMan," he said. "I think once this stuff catches on more I think it will sink in a little more as (me) being a pioneer of TrackMan. I can then tell my grandkids I was there at the start."
Atkins said he threw one inside fastball he thought should have been a strike once it was framed well by his catcher, but it was called a ball. And then he threw a high fastball at the batter's chest that never gets called a strike by a human umpire, but it got the nod from the ABS.
"The high pitches that it calls, I don't necessarily think they are strikes, as a pitcher, visually," he said. "Every pitch that I've thrown up there has always been a ball my whole career, from 6 years old until now, so it's different to see them called strikes now."
Ultimately, the system might benefit pitchers. But Atkins said he prefers the human element. And now he can't blame the human element, he joked.
"If TrackMan is calling the same pitches all the time, then (arguing) will be done. You can't get mad at TrackMan," Atkins said. "Of course, I shouldn't get mad at umpires, either."
The pitch-framing catcher
One of the primary purposes of the Atlantic League is to provide opportunities for players who were on the cusp of the majors, but now are no longer considered prospects, or for players who organizations don't want to stash in the affiliated minors. Occasionally, those guys can do enough in the Atlantic League to get another call from an affiliated team.
The others wait, and keep playing for a living, albeit barely a living – the salary tops out at $3,000 per month.
So, when you are James Skelton, a 33-year-old defensive-minded catcher who reached Triple A for Cincinnati and Washington but has now spent seven seasons in the Atlantic League, it might be easy to be bitter that the ABS is taking away one of your finest attributes: the ability to frame pitches.
But Skelton doesn't fully see it that way. He sees the bigger picture.
"As a catcher, I don't really like it too much, personally, because it takes away from my skill of receiving the ball. But if it is going to help the game at the big-league level, and they are looking to do this at the big leagues, well, that's why we are all here for."
Skelton said pitch-framing – the art of moving borderline pitches into the zone smoothly enough for umpires to call them strikes – might become a discarded art in the Atlantic League. For now, though, it is still needed in affiliated ball, which means Atlantic League catchers must keep working on that part of their games if they hope to move on.
He did that on Wednesday, shifting a few borderline pitches skillfully that ultimately were called balls by the ABS. deBrauwere, the umpire, said, he instinctively would have called them strikes based on Skelton's craftmanship, but instead he relayed what the system ruled. The umpires won't overrule called pitches, using their judgment only when the system isn't working.
"Skelton is one of the best defensive catchers, so he makes everything look pretty good," deBrauwere said. "There were pitches that the system called a ball that I thought for a second may have been a strike because Skelton is so good at making them look good, so that just goes to show how good he is at his job."
Skelton said that if catchers aren't worrying about pitch-framing, they can focus on other skills such as blocking balls in the dirt. It likely will result in a change in focus.
"I don't really have to worry about the receiving part of the game anymore, as far as trying to get balls called strikes," Skelton said. "So it's gonna get me to, I think, concentrate more on blocking."
The hitter (who got jobbed)
If Atkins goes down as the first pitcher to throw to the ABS, Lancaster's Joey Terdoslavich will be remembered in history as the first hitter to get jobbed by the TrackMan data.
In the second inning Wednesday, he was rung up on a low-and-outside pitch that he thought was clearly a ball. The ump did, too. ABS didn't, though, and it was strike three.
Instinctively, Terdoslavich glared at deBrauwere, who calmly pointed to his earpiece.
There was nothing else to do.
"You just go back to the dugout and get ready for our next at-bat, I guess," Terdoslavich said. "That's what I do with umpires. If they miss a call, I tell them. 'Hey, I think you missed it' and then it's on to your next at-bat."
It was a ball, deBrauwere said, but because it was tumbling out of the strike zone near the plate, he understands why it would be picked up by the radar as a strike.
"It's a two-seamer that's moving down, so not only is it just barely shaving the bottom of the strike zone, but it's also received way down in the dirt," deBrauwere said. "That's a pitch that we've gotten used to calling a ball, but, having said that, I can see that that pitch probably shaved the bottom."
Otherwise, the 30-year-old Terdoslavich, who spent parts of three seasons with the Atlanta Braves from 2013-15, said he actually thought the automated system was better than he anticipated.
"One blunder, if it was a blunder, which I think it probably was. That's pretty good," Terdoslavich said. "Nothing's perfect. The umpires aren't perfect. TrackMan is not going to be perfect, I don't think. But if it's really close, I can deal with it."
So, does the ex-big leaguer think the system will fly in the majors? Not anytime soon.
"Personally, do I think it could work? Sure. Do I think we'll ever see it (in MLB), at least in my time playing? Probably not," he said. "But, like I said, if they asked me, I'm telling them I thought it worked pretty good, even though it screwed me on one pitch. I mean, I've been screwed by umpires before, you know?"
The league executive
Rick White can view the 2019 Atlantic League All-Star Game only one way: a rousing success.
A longtime businessman and former MLB Properties president who is in his fifth year running the Atlantic League, White was beaming throughout the long day.
He raved about how the York Revolution handled the festivities and the implementation of the ABS. He raved about the relative smoothness of the technology and deBrauwere's calm under fire during the occasional hiccup.
White raved about the partnership with MLB – something he has been pushing for since he became league president – and how Morgan Sword, MLB's senior vice president for league economics and operations, was on hand to see the debut of the system the day after the big-league All-Star Game.
White was thrilled with the turnout of media, the attention paid to the system and the belief that Wednesday will have a long-reaching effect on the sport. He said 42 baseballs were pulled from the game periodically and two will be sent to the National Baseball Hall of Fame. The others will be presented as mementos to the umpires, to members of the Atlantic League board and York Revolution staff as well as other dignitaries. White's keeping one, too. A reminder of how well it all went.
And this isn't the end of the experimentation. The Atlantic League, in cooperation with MLB, will be implementing more rule changes in the second half, including counting two-strike bunts as fouls (rather than strike three), and allowing batters to "steal first," or attempt to get to first base on any pitch not caught in the air on any count (and not just on a dropped third strike).
Some of these have no chance of getting beyond the experimental stage. Others might. For the Atlantic League, it's all about being part of the process.
"Baseball is evolving. We are delighted to be a part of that evolution. We're grateful Major League Baseball selected us to do these tests," White said. "We understand and I believe our guests and our on-field personnel understand, it's not going to be without a speed-bump here or there. But, overall, if you expect that, we came away doing pretty well."
The fan/dad/ex-big-league player and manager
Not everyone loves the proposed changes to baseball.
Not everyone thinks that the game needs to get faster or more exciting or be free of umpiring mistakes. Some baseball fans want the sport and its rules to remain more in tune with its history.
Like the guy in the second row near the visitors' dugout Wednesday in York. Slicked-back dark hair, tanned, good-looking, mid-60s. He was there to see his son play in the All-Star Game.
He was also watching the automated strike calls. He was unimpressed.
"I don't like it. I want the human element," the guy said. "I heard one fan say, 'Well, you can't argue with anyone now.' I think once you instituted replay for the home run call, I think you opened Pandora's Box on a lot of stuff, all this replay stuff. Some people like it. And, if you are a traditionalist and you like the old way of playing, you're not gonna like it."
This fan knows a thing or two about baseball. He was a first-round pick of the New York Mets. He was an All-Star, a World Series champion. He managed the Orioles for two seasons. He's now a special assistant with the New York Yankees.
Yeah, Lee Mazzilli knows plenty about baseball. He intently watched the robot-umpire experience. He observed how his son, L.J., an infielder with the Long Island Ducks, handled it. And he felt like Terdoslavich had a real beef on that low strike near the dirt.
"It's got its flaws. It's gotta be tweaked. We'll see how it goes," Mazzilli said. "But I don't think it's gonna happen in the big leagues. I don't think it's getting by the players' union."
Mazzilli wasn't much of an arguer when he was an Orioles' manager. He was ejected twice during his tenure. Defending your case loudly on a miscall doesn't happen much anymore because of instant replay. So that's not what bothers him.
No, what Mazzilli doesn't like about ABS is what a lot of fans and players will grouse about, too. It just seems like another step away from yesterday's game.
"If I had a vote on it, I'd say no," Mazzilli said. "Why can't we just play baseball like we used to play when we were kids? We just played. Why not? It was fun."