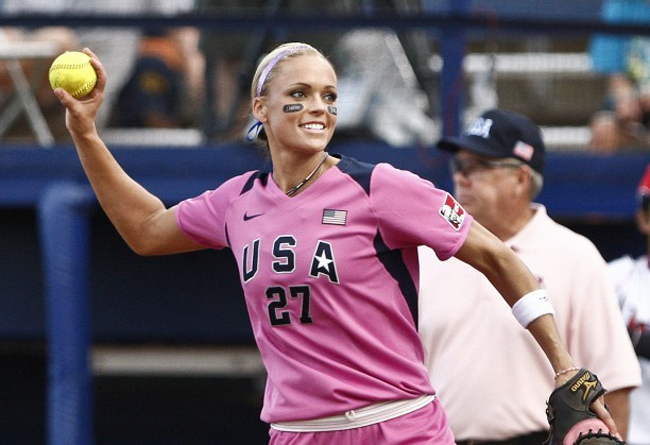 Softball legend Jennie Finch will serve as manager for a day for the Bridgeport Bluefish. (AP)
By: Mark Townsend

For the first time in professional baseball history, a female will manage a men's team.

It will happen this Sunday, May 29, when the Bridgeport Bluefish of the independent Atlantic League officially welcome softball legend Jennie Finch as their guest manager for one game when they take on the Southern Maryland Blue Crabs at The Ballpark at Harbor Yard.

According to a press release from March, Finch will also be involved in pregame activities, such as throwing out the ceremonial first pitch and participating in a pre-game meet-and-greet with fans. The attraction though is having a chance to witness history, as Finch will be in charge of managing the Bluefish from the dugout for the entire game.

"We are really excited to have Jennie come out and manage the team," Bluefish General Manager Jamie Toole said following the announcement. "She is an incredible athlete and a wonderful person, and we hope our fans will enjoy seeing her in a Bluefish uniform for the day."

If the Bluefish sound familiar, that's probably because they've done the guest manager promotion before with great success. In fact, last summer they had Pete Rose come in amidst his attempt to be reinstated to Major League Baseball. Since its an independent team, they don't have to adhere to MLB's rules. They have a lot more freedom to think outside the box in terms of promotions and attempts to create publicity.

Make no mistake about it, bringing in Finch is about garnering publicity too. But that's not to suggest it's not a cool gesture or that she's not qualified for a position in baseball.

Finch made her name playing Division-I softball for the University of Arizona Wildcats from 1999 to 2002. There, she helped lead the team to a national championship at the Women's College World Series in 2001. After her college career, Finch played as a member of Team USA during the Summer Olympics in Athens in 2004 and Beijing in 2008, winning gold and silver medals, respectively.

She's even matched her skills against MLB players in the past, often getting the best of them with her impressive arsenal.
Just as important as her accomplishments and ability though, she has a passion for baseball and undeniable knowledge of the game that cement her qualifications.

This may be a one-day guest gig, but if Finch expressed interest in going into coaching or scouting on a serious level, teams would probably not hesitate to extend her an opportunity.

http://sports.yahoo.com/blogs/mlb-big-league-stew/jennie-finch-set-to-make-history-for-independent-baseball-team-020913146.html