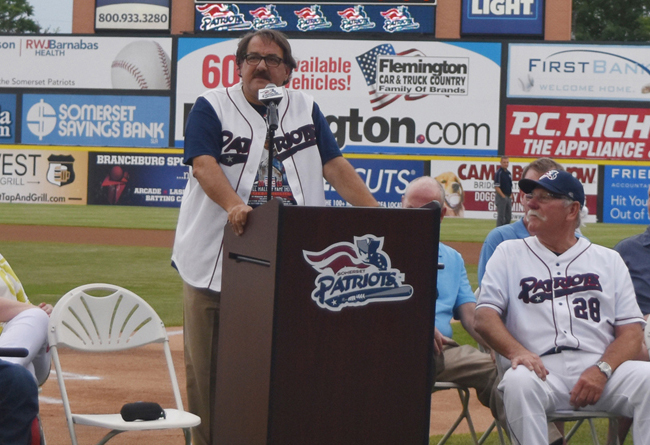 (Bridgewater, N.J., June 4, 2018) - The Somerset Patriots celebrated the 20th Season Anniversary of TD Bank Ballpark on Saturday, June 2nd before their game against the Road Warriors.

The Somerset Patriots welcomed dignitaries and special guests that were involved in the planning, design, construction, and history of TD Bank Ballpark for a pre-game ceremony in honor of the milestone.

"TD Bank Ballpark has been the place that has brought generations of families together," said Somerset Patriots Chairman Steve Kalafer, joined by his wife Suzanne and sons Jonathan and Joshua. "For 20 years, you've chosen to share your precious time with us, and for that, we will forever be grateful."

The ceremony included participation from past and present Somerset County officials. Former County Administrator Dick Williams, County Administrator Mike Amorosa, Freeholder Director Patrick Scaglione, Freeholder Mark Caliguire, Freeholder Brian Gallagher, and past Freeholders Peter Palmer, Rick Fontana, and Ken Scherer were in attendance. Long-time Somerset County Counsel Tom Miller, now a Somerset County Superior Court Judge, was also at the ballpark.

"Over 20 years ago, a group of committee members got together from the community and said we can do this when some people said we couldn't," said Fontana. "These leaders of the community should be thanked for bringing something that in my opinion can go on for many more years to come."

TD Bank representatives included Vice President Retail Market Manager Lisa Quaglia and Retail Market Manager Patricia Nyadick to highlight the long-time naming rights and community partnership between the company and ballclub.

"To us, this is not just a ballpark. It is so much more," said Nyadick. "It is so special because it is a community. It's been 20 great years, but the best is still yet come."

The ceremony recognized SSP Architects, who helped design the ballpark. SSP Architects Principal/COO Scott Mihalick, Principal Marcus Rosenau, and past President Mike Kerwin took part in the celebration.

Key individuals involved in the commissions and gaining public support for the ballpark were honored for their efforts. Vice Chairman of the Somerset County Stadium Advisory Task Force Rebecca Perkins, recently retired Executive Director of the Somerset County Park Commission Ray Brown, original Somerset Patriots Director of Public Relations Rich Reitman, and former mayor of Hillsborough Tony Gwiazdowski were thanked during the event.

The Somerset Patriots also welcomed long-time partners RWJBarnabas Health represented by Senior Vice President of Corporate Partnerships Justin Edelman, True & Associates represented by President/CEO and Somerset Patriots National Advisory Board Member Tom True, Flemington Department Store represented by President/Treasurer and Somerset County National Advisory Board Member Greg Mischke, Alpine Business Systems represented by President Bill Blum, WCTC 1450 AM (Beasley Media Group) represented by Hall of Fame broadcaster Bert Baron, and the Courier News (Gannett NJ) represented by General Manager/Editor Paul Grzella.

Somerset Patriots Manager Emeritus Sparky Lyle closed out the program before a video presentation commemorating the 20 seasons at TD Bank Ballpark.

"TD Bank Ballpark has become my home away from home," Lyle said. "A home is only as good as the people in it. Our fans have made this place very special and have made myself and our entire team feel like champions every day."

TD Bank Ballpark officially opened up for business on June 7, 1999 and has become the premier community-gathering place in Central New Jersey. This season, the Somerset Patriots will welcome their 7,000,000th fan to a game at their award-winning home in Bridgewater Township.

"For 20 seasons our unbelievable staff has worked tirelessly to provide the very best to our fans and the community," added Kalafer. "They not only maintain, but exceed the high standards set forth from our very first day and I could not be more proud of their efforts."

The 2018 Somerset Patriots Season presented by Ford is underway and features the team's 20th Season at TD Bank Ballpark. For tickets, visit www.somersetpatriots.com.

About The Atlantic League of Professional Baseball (ALPB)

The Atlantic League has been a leader in professional baseball and a gateway to Major League Baseball since 1998. Over 38 million fans have attended Atlantic League games and more than 900 players and 50 managers and coaches have joined MLB organizations directly from the ALPB. The Atlantic League emphasizes winning baseball games, showcasing the talent of top-caliber players and offering affordable family entertainment.

For more information, please visit www.atlanticleague.com.

###