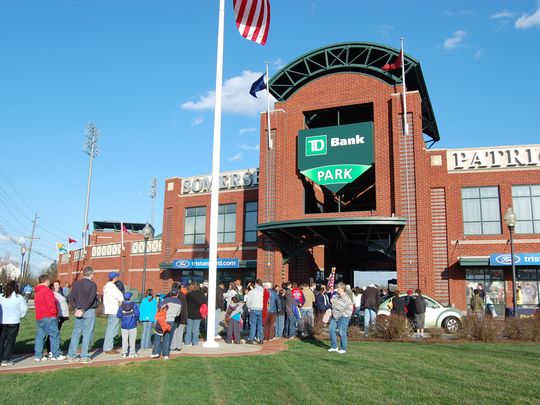 (Bridgewater, N.J., June 3, 2018) – "The Jewel of the Atlantic League" is still just as polished now as it was on the day it opened.

On Saturday night, TD Bank Ballpark hosted an elaborate celebration for the 20th anniversary of the first game ever played there on June 7, 1999.

While the evening's crowd of 6,071 people included many who had not been born when the franchise began, the night began with a ceremony which featured many public officials and private citizens who supported the building of the ballpark,which has become one of Somerset County's most visible and popular destinations.

In addition to members of the Kalafer family, who own the franchise, also in attendance were county elected officials and county employees, as well the architects who created the design of the ballpark, and business owners who have remained involved with the franchise over the past two decades. After the ceremony and a video commemorating the ballpark's 20-year history, the evening included a mixture of what distinguishes the community spirit of a Somerset Patriots' game.

Before the game, members of local dance troupes entertained the audience. The after the 20-year ceremony, members of different Central Jersey little league teams marched out on the field to ring the bases, and a Boy Scout troop presented the colors. Several people, including one youngster celebrating her birthday, threw a first pitch, and three young women sang the National Anthem, accompanied by members and youngsters from Miriam's Heart, a non-profit organization that supports adopted and foster children and their families. A 50/50 for the organization also was conducted throughout the evening.

While the Patriots lost to Road Warriors in a close 4-3 game, a celebratory feeling carried throughout the evening, which ended in a colorful display of fireworks. On Sunday, the Patriots came back to defeat the Warriors 4-1.

Two decades of attending games

"I got my seats a year before the stadium was built," said 20-year season ticket holder Vic Studna, a Raritan resident who estimates he's been to more than 1,000 Somerset Patriots games.

"They had a small storefront on Main Street in Somerville. You went in there, and there was a big map of the stadium. At that time, most of the seats were empty. The second day they went on sale, I was able to pick my seats, three of them. They also sold souvenirs; they had some hats, shirts, stuff like that. So, I bought a hat, shirt and my three seats. I'm in the same place I've always been; section 111, seats 5, 6 and 7 in the second row. I'm right behind the dugout, right behind where Sparky Lyle used to stand when he was the manager."

Lyle, the winner of the 1977 Cy Young Award as the best pitcher in the American League and legendary New York Yankees closer, is considered the Patriots first employee and credited by many for giving the organization the instant credibility it needed at its inception.

But, what most forget is that he had to manage the first season on the road as the team waited for the ballpark to be built.

"During the process of getting everything in place to get the ballpark built, we had to go down to the courthouse many times, especially over the historical (Van Horne) house across the street," Lyle recalled.

"I can remember them telling me that the bullpen was going to be here, and this and that would be here, and I couldn't see anything," he said. "It was wonderful, after playing 100 games on the road. You don't get last at-bats, and every time I got kicked out of a game, I had to go to the bus. It was nice to have an office to go to, not that I was kicked out of that many games at home. But it was 10 times better than I ever imagined it to be. The brick where you walk up on the outside is just absolutely gorgeous. When you play 100 games on the road and everything, we finally had a place to call our own. It's been beautiful ever since then."

Somerset Ballpark, as it was known at the time, was designed by Clarke Caton & Hintz and SSP Architectural Group and built by Epic Construction, and was always supposed to be just that, a ballpark. Franchise owner and chairman Steve Kalafer was very specific in not only his vision in that regard, but that the ballpark not open until every little detail was finished properly.

"We wanted this to look like a ballpark. Not a stadium, not an athletic complex. This had to be a ballpark," Kalafer said.

"What we did was we wanted to make sure all elements were there; brick, wrought iron, a wide concourse, easy access," Kalafer said. "Most minor league ballparks at the time, everybody found a way to cheap it out. Everybody found a way to cut a corner. We said we were going to put our money up to the county and we're going to finish it the right way. The team actually spent millions of dollars additionally to make sure that the ballpark was something that would be iconic, and it has.

"The most important thing that we felt was that the ballpark had to open the right way," he added. "Your first impression is your lasting impression, and we were speeding towards deadlines. We decided that although the ballpark would be functionally finished, it wouldn't be finished the way it should be on Opening Day. The Patriots said to Somerset County that we'll pay the expense of the delayed opening. It'll be on our dime, but we need to do this the right way. And we did. It was really the freeholders — along with Ray Brown, Tom Miller, Dick Williams, Mike Amorosa — that all said we're going to do this the right way, or we're not going to do it at all. They kept our feet to the fire, as they should have, and we've had a great partnership for 20 years."

It's rare for that to actually be true, of course. Whether it be the Atlantic City Surf, Camden Riversharks or Newark Bears, there are plenty of recent, in-state examples of partnerships between a community and sports team going awry.

Patrick Scaglione was a councilman in Bridgewater when they were getting the deal done for Bridgewater to do an exchange with the county to get the land for the ballpark, and is a current freeholder for Somerset County who has long been a proponent of the Patriots.

But, he was very conscious of the potential issues that could have arisen were things not done properly.

"The last thing we needed was a boondoggle where you have an albatross of an empty or underutilized stadium at the cost of millions of dollars to the taxpayer," Scaglione said.

"The Atlantic League was relatively new at that time, and we said with this type of financial business and baseball backgrounds, the league is probably going to be successful in the long-term," Scaglione said. "With Mr. Kalafer's business background, we thought he would be able to manage it properly. He turned out to be the perfect partner; he understands being a family-friendly, vital part of the community in working with organizations and others."

Making it work for the community

Kalafer has always taken great pride in not just that, but that in the creation one of just a handful of 100-percent family-owned franchises in professional sports that play in a ballpark that has never cost county taxpayers a dime. And this season, the park will soon host its 7,000,000th guest.

"When we set out to do this, it was if the community wanted us to do it and providing it was taxpayer neutral," he said.

"We've paid all the principal interest in the first 20 years. But there was debate; naysayers and yaysayers, but at the end of the day, the basis in which we went forward with the partnership with Somerset County was steeped in two things," Kalafer said. "One, the facts showed that if we ran it properly, the demographics were there. And, that if it was a true partnership, it could be everlasting. nd it has been."

Through the creations of both the Patriots organization and TD Bank Ballpark, those partnerships have also extended to local businesses like Couch Braunsdorf Insurance, who invested in a luxury suite and double-wide billboard in center field before the ballpark ever opened.

"Our experience has just been so good, it's been a wonderful partnership for Couch Braunsdorf with the Patriots," said Couch Braunsdorf executive vice president Jim Fitzpatrick.

"The organization from the top all the way down, they're just consummate professionals, and we know all of our guests that we send are going to have a wonderful experience. It's been very valuable from a number of perspectives; we do use it quite regularly with clients, but we also use it for a number of other purposes like civic groups, kids groups, scouts, baseball teams, church groups," he said. "Every year, starting as early as January, we start to get calls asking if we're going to be with the Patriots again, and of course we assure everybody that we are. Even before the season starts, our calendar fills up with those dates. It's such a popular venue."

Once thought to be impossible, baseball in Somerset County became a reality on June 7, 1999. Twenty years later, there's no sign of it slowing down any time soon.

"Every night when I go up there, someone will say, 'Thanks for bringing baseball to Somerset County,' and talk about what we've done for the sport," Lyle said. "It's very heartfelt. That's something that happened immediately when the ballpark opened for those people; that was their park, that was their field, that was their team. They still feel that way today."

For more on the 2018 Somerset Patriots Season presented by Ford, including tickets, visit www.somersetpatriots.com.

https://www.mycentraljersey.com/story/sports/baseball/patriots/2018/06/03/td-bank-ballpark-somerset-patriots/666114002/