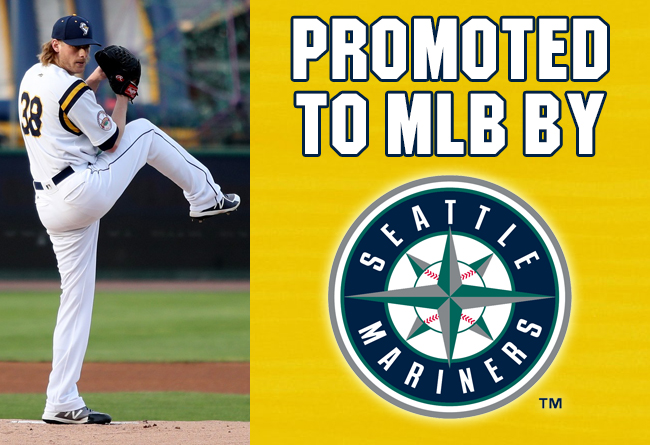 Former Revolution pitcher tosses six innings against Houston

(York, Pa., Aug. 21, 2018) - The Seattle Mariners selected the contract of former York Revolution left-handed pitcher Ross Detwiler from Triple-A Tacoma on Tuesday, the Revolution announced today.

Detwiler made his season debut for the Mariners on Tuesday night, tossing six innings in relief against the Astros in Seattle. He gave up three runs and struck out two batters in his first Major League outing since Sept. 28, 2016.

"We're very happy for Ross. I felt he was the best pitcher in the league at the time he was signed. What happened to him this season is exactly what our league is all about," said Revs manager Mark Mason. "We wish him continued success and look forward to following his career moving forward."

Detwiler becomes the 10th former Rev and eighth pitcher to reach the Major Leagues after spending time in York. He is the second former Rev to reach the Majors this season, joining Edward Paredes, who made 15 relief appearances for the Dodgers. Joining more elite company, Detwiler is the fourth player to go from the Revs to the Majors in the same season; he joins outfielder Tike Redman (Orioles-2007), right-handed pitcher Shawn Hill (Blue Jays-2012) and right-handed pitcher Julio DePaula (Orioles-2014) in that group.

Detwiler, 32, began the 2018 season with the Revs, going 3-1 with a 2.70 ERA and 32 strikeouts in 30.0 innings over six starts. His best start with the Revs was his last, when he racked up a Revs-season-high 11 strikeouts with no walks over 7.1 strong innings and earned the win against the Road Warriors on May 26.

The Mariners purchased his contract on May 31 and assigned him to Triple-A, where he logged 71.2 innings over 14 appearances (11 starts) before his big-league promotion on Tuesday.

The southpaw's best start at Triple-A came on June 25 against Las Vegas, when he worked 7.1 innings, allowed only one run on two hits with nine strikeouts and just two walks, and earned the win. He worked at least 6.0 innings in seven of his 11 starts and had seven quality starts, which included two stints with three straight quality starts.

The Mariners are Detwiler's sixth Major League team. He spent parts of seven seasons with the Nationals from 2007 to 2014 before pitching in the Majors with the Rangers and Braves in 2015 and the Indians and Athletics in 2016. Detwiler had 23 wins and 352 strikeouts in 189 appearances (83 starts) over nine Major League seasons prior to his Tuesday call-up.

About the York Revolution

The York Revolution Professional Baseball Club is a member of the Atlantic League of Professional Baseball. The Revolution were Atlantic League Champions in 2010, 2011, and 2017. The 2018 season will be the team's 12th. Located at 5 Brooks Robinson Way, PeoplesBank Park hosts all 72 home games, in addition to myriad events through the entire calendar year. For tickets or more information, please call 717-801-HITS (4487) or visit the Revolution online at www.YorkRevolution.com.

About the Atlantic League of Professional Baseball (ALPB)

The Atlantic League has been a leader in professional baseball and a gateway to Major League Baseball since 1998. Over 38 million fans have attended Atlantic League games and more than 900 players and 50 managers and coaches have joined MLB organizations directly from the ALPB. The Atlantic League emphasizes winning baseball games, showcasing the talent of top-caliber players and offering affordable family entertainment.

For more information, please visit www.AtlanticLeague.com.

###