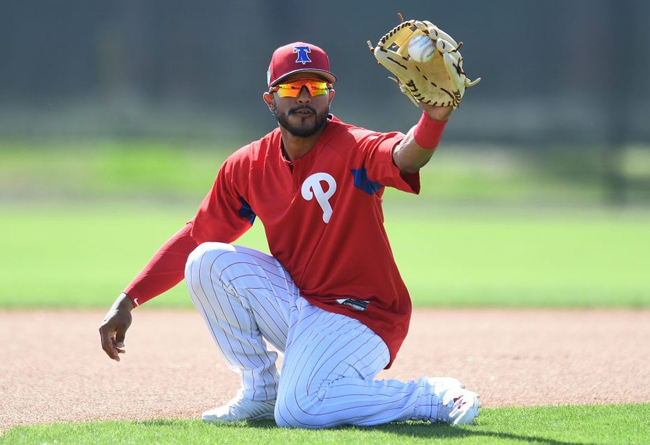 Jesmuel Valentin to join the Baltimore Orioles franchise

(High Point, N.C., April 12, 2019) – His time with the team did not last long, but Jesmuel Valentin already has a historic note in his High Point Rockers career. The 24-year-old infielder, who was signed by the Rockers earlier this week, has had his contract purchased by the Baltimore Orioles, making him the first High Point player ever to be signed by a Major League franchise.

"We knew that Jesmuel had the ability to get back to affiliated baseball," said Rockers manager Jamie Keefe. "While we were hopeful to have him put on our uniform and play in front of our fans, we are pumped for him and look forward to watching him on TV in the near future."

The son of former MLB All-Star Jose Valentin, Jesmuel will be assigned to Double-A Bowie in the Orioles organization. In his last stint at Double-A with the Reading Phillies, Valentin hit .276 in 89 games with five homeruns and 38 runs batted in while sporting a .975 fielding percentage.

Valentin was drafted by the Los Angeles Dodgers in the first round of the 2012 MLB Draft. He was traded to the Phillies in 2014 and quickly began rising through the ranks of their system. After spending parts of three seasons (2016-18) at Triple-A Lehigh Valley, Valentin was called up to the Majors early in the 2018 season. Born in Puerto Rico, he made his MLB debut on April 29, 2018 and played in 46 total games.

About High Point Baseball, Inc

High Point Baseball aka the High Point Rockers will begin their inaugural season in the Atlantic League in 2019 with their home opener schedule for May 2, in a brand new approximately $36M downtown ballpark named BB&T Point. Expected to enhance the rich baseball history in North Carolina, High Point Baseball is part of the fastest growing family sport in America. High Point Baseball is committed to providing superior customer service and quality, affordable family entertainment experiences for the Triad of North Carolina. Look for exciting upcoming announcements, including the team mascot. In addition, season ticket deposits are currently being accepted, while corporate partnerships are currently being crafted.

About the Atlantic League of Professional Baseball (ALPB)

With eight teams in the Mid-Atlantic and Texas, the ALPB is a leader in baseball innovation and a player gateway to Major League Baseball. Through its exclusive partnership with MLB, the Atlantic League tests Major League Baseball rules and equipment initiatives. The Atlantic League has sent over 900 players to MLB organizations while drawing more than 40 million fans to its affordable, family-friendly ballparks throughout its 22-year history.

For more information, please visit www.AtlanticLeague.com.

###