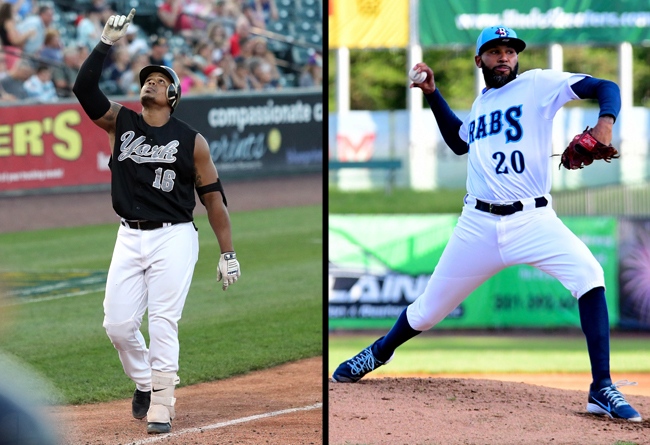 Revolution catcher named Player of the Month; Blue Crabs veteran righty selected as Pitcher of the Month
(Tejeda photo courtesy of Joe Doll; Thompson photo courtesy of Memories Photography / Bert Hindman)

(Lancaster, Pa., Aug. 8, 2019) – The Atlantic League of Professional Baseball (ALPB) today announced the recipients of the league's Player and Pitcher of the Month awards for July of 2019.

York Revolution catcher Isaias Tejeda has been named the Atlantic League's Player of the Month. The 27-year-old led the league in each of the Triple Crown categories, posting a .427 batting average with 12 home runs and 29 RBIs over 22 games. He also led the league with 76 total bases, a .927 slugging percentage and a 1.406 OPS while tying for the league lead with 27 runs and 35 hits. The 2019 Atlantic League All-Star homered in six consecutive games from July 7-15, totaling seven longballs and 11 RBIs in that span. He also hit safely in 13 consecutive games from July 7-23, batting .434 in that span (23-for-53).

Southern Maryland Blue Crabs starter Daryl Thompson has been chosen as the Atlantic League's Pitcher of the Month. The right-hander made five starts during July and earned wins in all five outings, leading the league in wins for the month. He also posted a 1.35 ERA that was second among ALPB starters during the month. The 33-year-old's 33.1 innings pitched and 34 strikeouts in July were both second in the Atlantic League, and he surrendered just five runs on 15 hits and three walks. Thompson pitched a complete game, one-hit shutout in game two of a doubleheader on July 12 against Lancaster, coming within two outs of a perfect game. He then threw eight innings of two-hit shutout baseball with nine strikeouts on July 29 at High Point.

"Isaias and Daryl are both Atlantic League veterans and outstanding players," said Atlantic League President Rick White. "They each had an exemplary month of July, and we would like to congratulate them on a job well done."

About the Atlantic League of Professional Baseball (ALPB)

With eight teams in the Mid-Atlantic and Texas, the ALPB is a leader in baseball innovation and a player gateway to Major League Baseball. Through its exclusive partnership with MLB, the Atlantic League tests Major League Baseball rules and equipment initiatives. The Atlantic League has sent over 900 players to MLB organizations while drawing more than 40 million fans to its affordable, family-friendly ballparks throughout its 22-year history.

For more information, please visit www.AtlanticLeague.com.

###