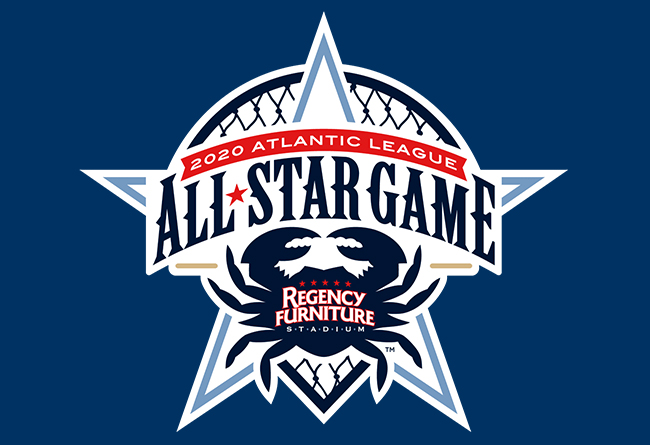 (Waldorf, Md., Sept. 14, 2019) - The Southern Maryland Blue Crabs have announced that Regency Furniture Stadium will host the 2020 Atlantic League All-Star Game. Some of professional baseball's most accomplished stars, will descend upon Regency Furniture Stadium on July 15, 2020, as the Atlantic League of Professional Baseball comes together for a "Showcase at the Shore."

"It is truly an honor for the Blue Crabs and the Southern Maryland community to be hosting this event," said Blue Crabs General Manager Courtney Knichel. "The All-Star Game and its festivities will be an extraordinary opportunity to showcase our region and Crustacean Nation."

Next year's event will mark the second time that Regency Furniture Stadium has hosted the Atlantic League All-Star Game. Crustacean Nation last played host to the mid-summer classic in 2013. Additionally, the 2020 All-Star Game will be one of many events that will take place over the All-Star week period in Southern Maryland. "The Blue Crabs are extremely proud of this opportunity to host the game," Knichel continued. "Planning has already begun and the front office is working tirelessly with our partners, community members, and the supporters of Crustacean Nation to make this a chance for our region as well as surrounding communities to experience all that Regency Furniture Stadium has to offer."

Ticket availability for the 2020 All-Star Game and events will be announced at a later date.

"Southern Maryland is one of the paramount organizations in the Atlantic League and we are extremely excited for the Blue Crabs to host the 2020 All-Star Game," said Rick White, President of the Atlantic League of Professional Baseball." It's a great place for the players, coaches, staff, and fans to come to enjoy one of the best experiences in professional baseball."

About the Southern Maryland Blue Crabs

The Blue Crabs play 140 regular season games in the Atlantic League of Professional Baseball Clubs. The Blue Crabs, in their 12th season of baseball, call Regency Furniture Stadium in Waldorf, Maryland home. For more information on the Blue Crabs, please call 301-638-9788 or visit http://www.somdbluecrabs.com for more information.

About the Atlantic League of Professional Baseball (ALPB)

With eight teams in the Mid-Atlantic and Texas, the ALPB is a leader in baseball innovation and a player gateway to Major League Baseball. Through its exclusive partnership with MLB, the Atlantic League tests Major League Baseball rules and equipment initiatives. The Atlantic League has sent over 900 players to MLB organizations while drawing more than 40 million fans to its affordable, family-friendly ballparks throughout its 22-year history.

For more information, please visit www.AtlanticLeague.com.

###