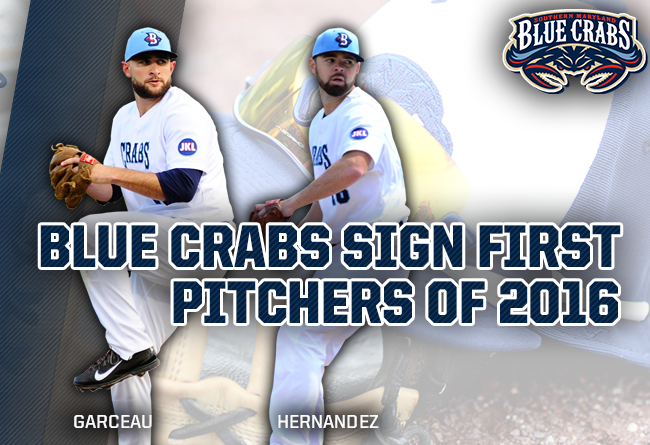 Hernandez and Garceau both returning to Southern Maryland

(Waldorf, Md., Feb. 26, 2016) - The Southern Maryland Blue Crabs have agreed to deals with RHP's Shaun Garceau and Gaby Hernandez to pitch in 2016.

Garceau and Hernandez were part of the 2015 Blue Crabs, and they collectively bring plenty of Atlantic League experience in their professional careers.

Shaun Garceau returns to pitch for Southern Maryland for the second consecutive season. Garceau, 28, stad his Atlantic League career in 2011 while going on to win 13 games for the Long Island Ducks in 2014 that culminated in an all-star appearance. Last season, after starting the year with the Blue Crabs, Garceau went on to pitch in seven games for Aquascalientes of the Mexican League before returning to Southern Maryland in the second half of the season. A West Palm Beach, Florida native, Garceau was drafted by the St. Louis Cardinals in the 20th round of the 2005 MLB Draft out of Royal Palm Beach High School.

Along with Garceau, Gaby Hernandez is the second star to return from the 2015 team. Despite spending a short amount of time with the Blue Crabs, Hernandez went 2-1 with a 2.84 ERA. After just three starts, Hernandez signed on to pitch in Taiwan. He first became part of the Southern Maryland organization in 2012 and went 5-1 with a 2.77 ERA that season. Hernandez, 29, was drafted by the New York Mets in the third round of the 2004 MLB Draft out of Belen Jesuit Preparatory. He went on to pitch in the Mets, Marlins, Mariners, Royals, Diamondbacks, and White Sox organizations, making it as high as the triple-a level in all but one of those organizations.

"I'm excited to have these two guys back in our rotation," said Blue Crabs Manager Jeremy Owens. "In the short time Hernandez was with us last year he provided solid depth in our rotation, and Garceau pitched for us in some big spots down the stretch last season. Our 2016 rotation really took a step forward with these signings."

About the Southern Maryland Blue Crabs
The Blue Crabs play 140 regular season games in the Atlantic League, considered the highest level of minor league baseball. Atlantic League players are "Major League-ready" and over the last 16 years, more than 600 players have advanced from Atlantic League clubs to Major League organizations, making the Atlantic League a preferred route for experienced players to be scouted by Major League Baseball. The Blue Crabs play at Regency Furniture Stadium in Waldorf, Maryland. The franchise will look to open its ninth season on Thursday April 21st, 2016. Please call 301-638-9788 or visit http://www.somdbluecrabs.com for more information and to reserve your seat at the ballpark today!

###