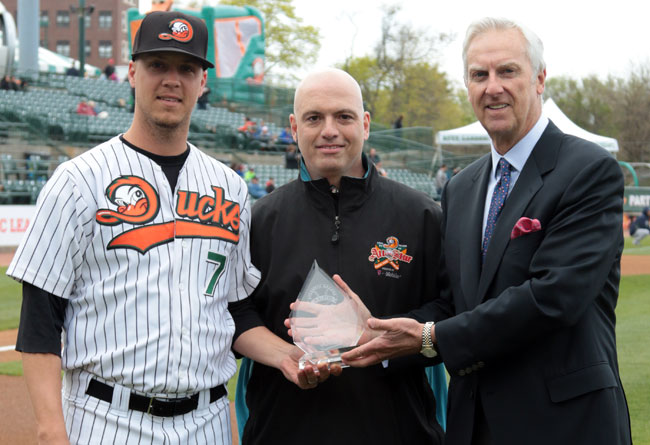 Long Island Ducks veteran honored for outstanding season

(Denver, CO, April 28, 2016) – On Thursday, April 28, Atlantic League President Rick White was in attendance at Bethpage Ballpark in Central Islip, N.Y. to join Long Island Ducks President Michael Pfaff and present Ducks starting pitcher John Brownell with the 2015 ALPB Pitcher of the Year award. The right-hander was announced as the recipient of the honor in October, 2015 after voting from club managers and executives.

"John has been, and continues to be, a tremendous representative of the Atlantic League," said White. "He is very deserving of this honor and remains one of the top pitchers in the league."

Brownell became the second player in Long Island Ducks history to receive Atlantic League Pitcher of the Year honors, joining Mike Loree, who accomplished the feat in 2011. The right-hander posted the best regular season of his Ducks career, compiling a 12-6 record with a 3.38 ERA in 26 starts. He ended the year tied or in sole possession of the league lead in wins, innings pitched (175.2), complete games (4), shutouts (2) and strikeouts (146), which was also a single season franchise record. In addition, he was tied for the second-most starts in the league and finished fifth in earned run average.

Along with earning Pitcher of the Year honors, Brownell was selected as the starting pitcher on the league's year end All-Star team. The 32-year-old is in his fifth season with the Ducks after joining the team in August, 2012. In 87 games (85 starts), he is 36-27 with a 3.70 ERA and 434 strikeouts over 571 and one-third innings. The Omaha resident is also just four wins, 16 innings pitched and five starts shy of tying Randy Leek (2007-10) for the all-time franchise record in both categories.

About the Atlantic League of Professional Baseball (ALPB)

The Atlantic League has been a leader in professional baseball and a gateway to Major League Baseball since 1998. Over 34 million fans have attended Atlantic League games and more than 800 players and 50 managers and coaches have joined MLB organizations directly from the ALPB. The Atlantic League emphasizes winning baseball games, showcasing the talent of top-caliber players and offering affordable family entertainment to metropolitan markets serving nearly 15% of the US population.

For more information, please visit www.atlanticleague.com.

###