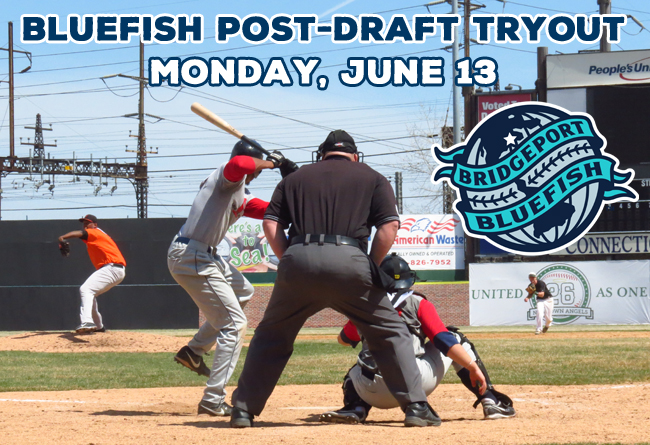 Showcase your skills in front of Bluefish coaches and scouts

(Bridgeport, Conn., May 9, 2016) – The Bridgeport Bluefish today announced that a post-draft open tryout for the team will be held at The Ballpark at Harbor Yard on Monday, June 13th from 10:00 am to 1:00 pm, with a live on field scrimmage following the tryout.

"This is a great opportunity for current free agents and players who were not selected in the Major League draft to come to the ballpark and show off their skills in hopes to play in the Atlantic League," said Bluefish Senior Director of Baseball Operations & Public Relations, Paul Herrmann. "We're looking forward to hopefully finding players from the tryout to invite to join our roster. Carlos Sosa, Yefry Castillo, and Joseph Kuzia were participants of our first tryout in April and made our roster this season. We are hoping to mirror that success."

There will be an administration fee of $85 to tryout, with select participants (elected by the coaches) having the great experience of being able to participate in a live game on the field at The Ballpark at Harbor Yard following the tryout.

Position players are to report to The Ballpark at Harbor Yard at 9:30 am for registration, while pitchers report at 11:00 am for registration. Participants must be at least eighteen years of age. All participants must wear proper baseball attire to be eligible to tryout. All those present should provide their career statistics and must supply their own wooden bats and baseball gloves. All participants will be required to sign a release form before trying out for the team.

Coaches and representatives from the Bluefish will be on hand to evaluate the players at the ballpark, including Manager Luis Rodriguez and Pitching Coach Jesse Litsch.

The Pro-Tryout Specifications will include:

-Warmups
-60 yard dash
-Pop Time (Catchers)
-Infielders/Outfielders – Defensive Drills
-Pitcher Warmup
-Position Players Hit in Cage, Pitchers light bullpen (pre-scrimmage)
-Scrimmages begin at 1:00 pm

To sign up and reserve your tryout spot please contact Paul Herrmann at (203) 416-1715 or [email protected]. You may also CLICK HERE to download the registration form.

About the Bridgeport Bluefish

The Bridgeport Bluefish are members of the Atlantic League of Professional Baseball and play their home games at The Ballpark at Harbor Yard. For further information, call 203-210-BLUE (2583) or visit BridgeportBluefish.com.

About the Atlantic League of Professional Baseball (ALPB)

The Atlantic League has been a leader in professional baseball and a gateway to Major League Baseball since 1998. Over 34 million fans have attended Atlantic League games and more than 800 players and 50 managers and coaches have joined MLB organizations directly from the ALPB. The Atlantic League emphasizes winning baseball games, showcasing the talent of top-caliber players and offering affordable family entertainment to metropolitan markets serving nearly 15% of the US population.

For more information, please visit www.AtlanticLeague.com.

###