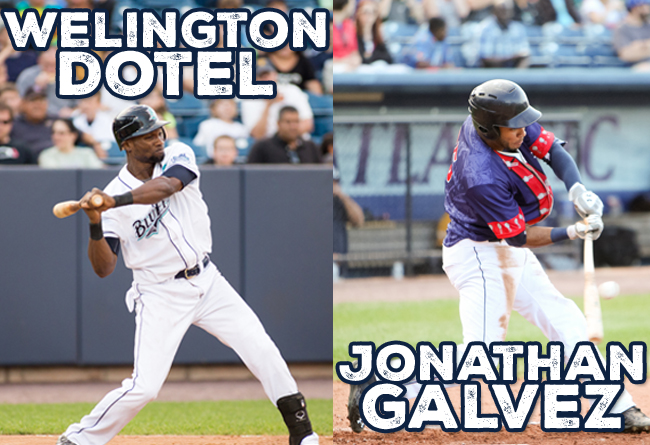 Outfielders Welington Dotel and Jonathan Galvez make their way back to the Park City

(Bridgeport, Conn., May 24, 2016) – The Bridgeport Bluefish today announced the return of Welington Dotel, who was named last season's Atlantic League Player of the Year, as well as outfielder Jonathan Galvez, who had his contract purchased by the New York Mets organization last July.

"We are thrilled to have both Welington and Jonathan back with us this season," says Bluefish Manager Luis Rodriguez. "They are both all-around phenomenal players so they will be great additions to our team."

Welington Dotel returns to Bridgeport for his second season in the Atlantic League and his tenth of professional baseball. He began the 2016 campaign with Tabasco and Monterrey, both of the Mexican League. Last year with the Bluefish, he led the league in hits (180), triples (13), extra-base hits (52), total bases (261), stolen bases (45), and slugging percentage (.492), ranked second in batting average (.340), third in doubles (31), and fifth in games played (133) and on-base percentage (.371). He also collected eight home runs, 68 RBI, and 68 runs scored. Welington currently holds Bluefish single-season records in hits and triples, and a career mark in batting average (minimum 500 at-bats). The slugger was named to the 2015 Atlantic League All-Star Team and won the All-Star Home Run Derby. At the end of the season, Dotel was named to the first-ever Atlantic League Red, White & Blue All-Defensive Team. He was also unanimously chosen as the 2015 Atlantic League Player of the Year. The 30-year-old began his career in 2006 as an undrafted free agent with the Seattle Mariners organization, where he spent five seasons reaching as high as the Single-A level. Over the course of 612 minor league games, Dotel owns a .318 batting average with 387 runs scored, 329 RBI, 46 triples, 130 doubles, 51 home runs and 173 stolen bases.

Jonathan Galvez joins the Bluefish for his second season in the Atlantic League and ninth of professional baseball. Last year, the infielder played 40 games with Scranton/Wilkes-Barre (Triple-A, New York Yankees), before coming to Bridgeport and appearing in 12 contests. On July 21, 2015, his contract was purchased by the New York Mets organization, and he finished the season with Double-A Binghamton. In a combined 94 games, Jonathan collected a .250 batting average with two home runs, 37 RBI, 37 runs scored, and seven stolen bases. The 25-year-old began his professional career in 2008 within the San Diego Padres organization. He spent seven years in the Padres farm system, reaching Triple-A in both 2013 and 2014. In 740 career minor league games, Galvez owns a .277 batting average with 56 home runs, 368 RBI and 429 runs scored.

In a corresponding roster move, pitcher Carlos Ruiz and infielder Carlos Sosa have been released.

About the Bridgeport Bluefish

The Bridgeport Bluefish are members of the Atlantic League of Professional Baseball and play their home games at The Ballpark at Harbor Yard. For further information, call 203-210-BLUE (2583) or visit BridgeportBluefish.com.

About the Atlantic League of Professional Baseball (ALPB)

The Atlantic League has been a leader in professional baseball and a gateway to Major League Baseball since 1998. Over 34 million fans have attended Atlantic League games and more than 800 players and 50 managers and coaches have joined MLB organizations directly from the ALPB. The Atlantic League emphasizes winning baseball games, showcasing the talent of top-caliber players and offering affordable family entertainment to metropolitan markets serving nearly 15% of the US population.

For more information, please visit www.AtlanticLeague.com.

###