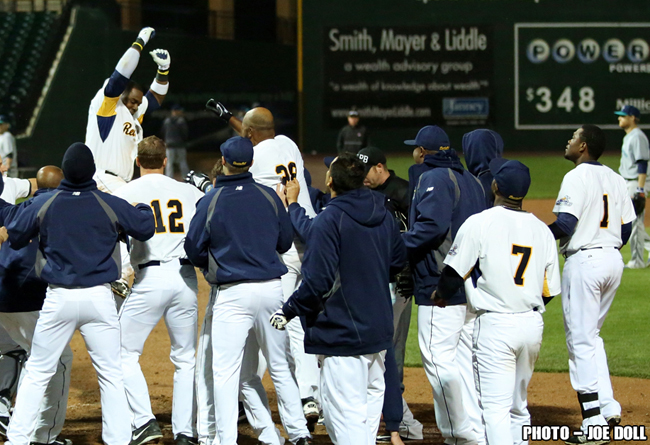 York's win at Long Island and losses by Sugar Land and Lancaster wrap up first half crown

(Central Islip, N.Y., June 30, 2016) - The York Revolution took care of their own business with an 8-7 win over the Long Island Ducks, and made a postseason berth official during the bus ride home as Sugar Land lost its game at Southern Maryland in 15 innings late on Thursday night. With the win and losses by Sugar Land and Lancaster, the Revs are 2016 Freedom Division first half champions, and are the first Atlantic League team to clinch a postseason berth, the sixth in franchise history.

York stormed out to a big lead and hung on for the win, taking care of their part of the equation in front of 5,314 fans at Bethpage Ballpark.

Most of the offensive action took place early as York ripped off three runs in each of the first two innings, and built a 7-1 lead through the third.

Travis Witherspoon got the game started with an infield single and stole second before Michael Rockett battled out a walk. Joel Guzman followed with an infield hit to load the bases with no outs in the first. Ducks lefty Jack Snodgrass struck out the next two batters and threatened to escape trouble, but Kevin Rivers worked a clutch two-out walk to force in the game's first run. Alfredo Marte followed with a two-run bloop single to center for a 3-0 lead.

Long Island scored a run in its half of the first as Fehlandt Lentini and Delta Cleary, Jr. took one-out walks and advanced on a double steal. That set up a Cody Puckett sac fly, as Long Island made the score 3-1 without a base hit.

The Revs went right back to work in the second as Keith Castillo led off with a single, and after a fielder's choice Rockett drew another walk. Joel Guzman ripped an RBI single to right for his league-leading 47th RBI, Rockett came home on a passed ball, and Andres Perez laced an RBI single to left-center for a 6-1 lead.

Josh Wilson slammed a solo homer to left in the top of the third to make it 7-1.

Revs starter Ty'Relle Harris was sharp early but ran into trouble in the fourth. Puckett led off with an infield single and Dan Lyons drew a walk. Ruben Gotay then ripped a two-run double to right-center to begin the Ducks' comeback. With one out, Mike Blanke reached on a bloop single, advancing Gotay who then scored on a Matt Wessinger ground out. Anthony Vega capped the rally with an RBI single up the middle, suddenly cutting the lead to 7-5 and ending the night for Harris.

York reliever Manny Corpas (1-0) came up big and earned the win, retiring all four batters faced including the final out of the fourth.

The Revs added what proved to be a pivotal insurance run in the sixth as Rockett led off with a single to right, took second on a wild pitch, and scored on a one-out ground rule double to deep right-center by Michael Burgess on a ball that Cleary, Jr. lost sight of in the twilight, extending the lead to 8-5.

Wessinger connected on his first home run of the season, a two-run shot down the left field line to bring the Ducks within 8-7 in the sixth, but York's bullpen was airtight the rest of the way.

Scott Rice worked a 1-2-3 seventh. Julio DePaula then handled a scoreless eighth as Gotay's leadoff single was erased when pinch-runner Carlos Hughes was thrown out attempting to steal by Castillo. Ricardo Gomez was dominant with a 1-2-3 ninth including a pair of strikeouts in his first save opportunity of the year.

Snodgrass (5-6) took the loss for Long Island, charged with six runs (five earned) in just two innings, needing 60 pitches to get through the first two frames.

Notes: York's magic number dropped from three to zero in one night, as York's win coupled with Sugar Land's loss also clinched the tiebreaker in favor of the Revs, securing the best record in their own division. The first half title is the second in three years for the Revs, and third in franchise history (also 2010, 2014). Witherspoon scored twice, and now has 12 runs and eight steals in his first 14 games with York; he has hit safely in 12 of those 14 games. Rockett tied a Revs' season-best by scoring three times for the second time in the series, and has now hit safely in 17 of his last 19 games batting .362 since June 9. Burgess' sixth-inning RBI is his 17th in just 19 games with York. York righty Micah Owings (2-3, 5.27) squares off with Lancaster right-hander Tanner Peters (3-2, 4.15) in Friday's series opener at 6:30 p.m. Revs fans can catch the action live on SportsRadio 1350, woyk1350.com, the WOYK mobile app, and YorkRevsTV.com live at 6:10 p.m. with Darrell Henry and Will DeBoer on the call. Friday marks another edition of the Celebrate York Series presented by Memorial Hospital as the first 1,000 fans receive a York Plan Mural Tumbler Giveaway. Tickets are on sale at YorkRevolution.com, (717) 801-HITS, and in-person at the Apple Chevrolet Ticket Office.

###