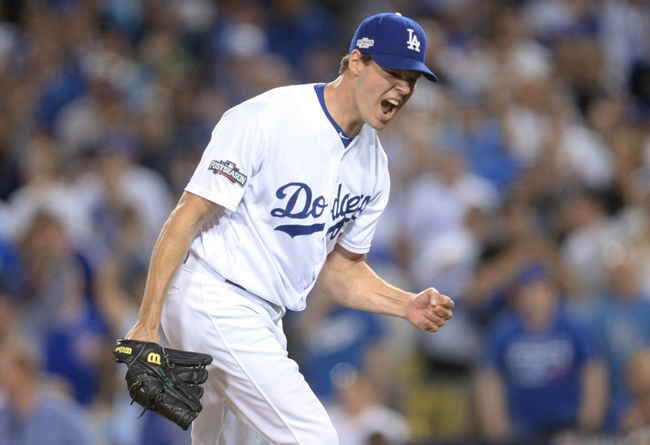 Former Ducks pitcher tosses six scoreless innings

Former Long Island Ducks left-handed pitcher Rich Hill earned his first career postseason win on Tuesday night, as the Los Angeles Dodgers defeated the Chicago Cubs 6-0 in Game Three of the National League Championship Series. The Dodgers now lead the best-of-seven series to games to one.

Hill pitched six scoreless innings, out-pitching defending NL Cy Young Award winner Jake Arrieta. He gave up just two hits and two walks on the night while striking out six batters, and he threw 60 of his 93 pitches for strikes. Hill has started three games in the postseason thus far, combining to allow five runs in 13 innings of work. Prior to Tuesday night, he allowed one run while pitching on short rest in Game Five of the National League Division Series against the Washington Nationals, which the Dodgers went on to win, 4-3. 2016 marks just the second time in his career that he has pitched in the MLB postseason. His only other experience came with the Cubs in the 2007 NLDS when he pitched in Game Three against the Arizona Diamondbacks.

The 36-year-old has put together a phenomenal 2016 campaign, despite battling injuries during the year. Hill began the year with the Oakland Athletics and made 14 starts. He compiled a 9-3 record with a 2.25 ERA, striking out 90 batters while walking just 28 in 76 innings of work. The southpaw was then traded to the Dodgers on August 1 and went on to make six starts with Los Angeles, posting a 3-2 record, a miniscule 1.83 ERA and 39 strikeouts to five walks in 34 and one-third innings. Most notably, he tossed seven perfect innings on September 10 against the Miami Marlins before being lifted from the game by manager Dave Roberts.

Hill's magical journey back to the Major Leagues began in Central Islip in 2015. After the Long Island Ducks signed him on July 28 and gave him the opportunity to start, he turned in two tremendous outings. In 11 scoreless innings of work, Hill yielded just two hits and three walks while striking out 21 batters, including a franchise record-tying 14 on August 9 against the Camden Riversharks. The following day, his contract was purchased by the Boston Red Sox. The Boston native went on to make five starts at Triple-A Pawtucket before he was promoted to the Major Leagues on September 8, less than a month after pitching for the Flock. Hill would make four starts for Boston and went 2-1 with a 1.55 ERA and 36 strikeouts to just five walks in 29 innings.

In 17 seasons, the Ducks have seen 15 players reach the game's highest level after playing for Long Island. The list includes Carlos Baerga, Pedro Borbon Jr., Bill Pulsipher, Ken Ray, Nelson Figueroa, Mel Stocker, Jay Gibbons, Erick Almonte, Robinson Cancel, Joey Gathright, Justin Hampson, Kip Wells, Lew Ford, Scott Rice and Hill. In 2016, five members of the Ducks had their contracts purchased by Major League organizations. Among them were Bruce Kern (Royals), Nate Freiman (Red Sox), Mark Blackmar (Nationals), Jack Snodgrass (Rangers) and Eury De La Rosa (Astros).

The Long Island Ducks are members of the Atlantic League of Professional Baseball and play their home games at Bethpage Ballpark. For further information, call (631) 940-DUCK or visit www.liducks.com.

About The Atlantic League of Professional Baseball (ALPB)

The Atlantic League has been a leader in professional baseball and a gateway to Major League Baseball since 1998. Over 36 million fans have attended Atlantic League games and more than 800 players and 50 managers and coaches have joined MLB organizations directly from the ALPB. The Atlantic League emphasizes winning baseball games, showcasing the talent of top-caliber players and offering affordable family entertainment to metropolitan markets serving nearly 15% of the US population.

For more information, please visit www.atlanticleague.com.

###