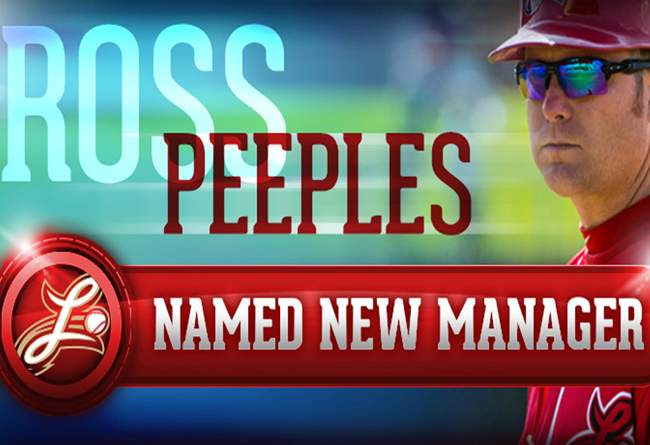 (Lancaster, Pa., Nov. 16, 2016) - Ross Peeples, who has been with the Barnstormers as a player, coach and baseball administrator for the first 12 years of the franchise's history has been named the Lancaster Barnstormers manager for the 2017 season, it was announced today by partner Rob Liss.

Peeples, known affectionately by fans and team members as "The Mayor," spent ten seasons on the Lancaster pitching staff, beginning with the inception of the franchise in April, 2005. He is the only player in league history to spend ten seasons with one club and holds the league record for most career appearances in a Barnstormers uniform with 374. He is Lancaster's all-time leader in innings pitched and strikeouts and ranks second only to Dwayne Pollok in wins.

Following the 2014 season and his second Barnstormers championship as a player, Peeples, now 36, was named the team's bench coach. The native of Crisp County, Georgia, who now makes his home in Lancaster has also been the baseball administration manager for the team, working on everything from contracts to uniform and equipment orders.

"This is a blessing," said Peeples. "I'm excited. I know it's going to be a challenge, but I'm willing to take it on, learn and grow in the role."

"Ross Peeples is someone we have known for 12 years," Liss continued. "We have watched him develop from a very popular pitcher to an instructor to an administrator. He has learned and grown along the way, and we look forward to supporting him as he transitions into this new phase of his career. Ross has been very important to the Lancaster community for years, and, in his role as manager, will have an enhanced presence, representing the Barnstormers in the area."

About the Lancaster Barnstormers

The Lancaster Barnstormers are entering their 13th season as a member of the Atlantic League of Professional Baseball. Home games are played at Clipper Magazine Stadium in downtown Lancaster, Pennsylvania. Please call 717.509.HITS (4487) or visit www.lancasterbarnstormers.com for more information.

About the Atlantic League of Professional Baseball (ALPB)

The Atlantic League has been a leader in professional baseball and a gateway to Major League Baseball since 1998. Over 36 million fans have attended Atlantic League games and more than 800 players and 50 managers and coaches have joined MLB organizations directly from the ALPB. The Atlantic League emphasizes winning baseball games, showcasing the talent of top-caliber players and offering affordable family entertainment to metropolitan markets serving nearly 15% of the US population.

For more information, please visit www.atlanticleague.com.

###