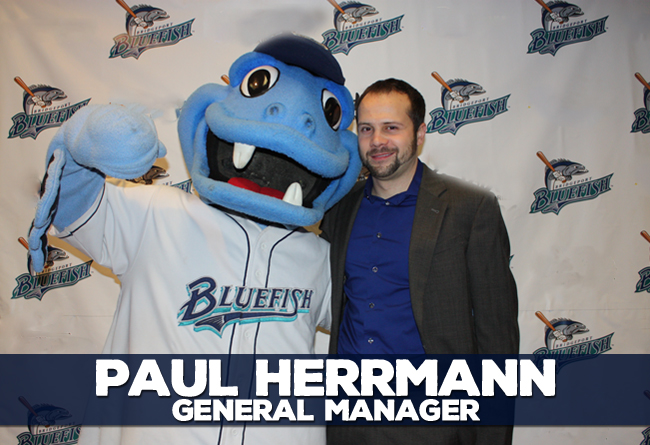 Bluefish veteran enters his ninth season in the Park City

(Bridgeport, Conn., Jan. 12, 2017) – The Bridgeport Bluefish today announced that Paul Herrmann has been named the team's new General Manager. Herrmann will be elevated from his previous role as Assistant General Manager & Director of Baseball Operations, and will replace Jamie Toole, who steps down to pursue new career opportunities.

"Paul is an experienced leader within the Bluefish organization and is extremely deserving of this promotion," says Bluefish Principal Owner/CEO Frank Boulton. "We are excited to continue to build on the momentum the team has built throughout the past few seasons."

Herrmann, 31, is a native of Center Moriches, New York and currently resides in Milford, Connecticut. Paul joined the Bridgeport Bluefish front office in November of 2008, when he was hired as a Media Relations Coordinator. Prior to joining the Bluefish, Paul functioned as the Media Relations Assistant for the Long Island Ducks where he actively worked with local media, while also writing press releases and maintaining team statistics. Paul has also spent time working with the New York Jets, New York Knicks and Sussex Skyhawks. Herrmann graduated from Rutgers University in 2007 and spent two years in the Athletic Communications department during his time there.

"I'm very excited and honored to assume the General Manager position with the Bluefish during the team's 20th Anniversary Season," says Herrmann. "Going on my ninth year in Bridgeport, I've been able to meet many of our tremendous partners, season ticket holders, and fans. We're looking forward to another great season and with the help from our talented staff, we plan to make this a fun summer for everyone."

About the Bridgeport Bluefish

The Bridgeport Bluefish are members of the Atlantic League of Professional Baseball and play their home games at The Ballpark at Harbor Yard. For further information, call 203-210-BLUE (2583) or visit BridgeportBluefish.com.

About the Atlantic League of Professional Baseball (ALPB)

The Atlantic League has been a leader in professional baseball and a gateway to Major League Baseball since 1998. Over 36 million fans have attended Atlantic League games and more than 800 players and 50 managers and coaches have joined MLB organizations directly from the ALPB. The Atlantic League emphasizes winning baseball games, showcasing the talent of top-caliber players and offering affordable family entertainment to metropolitan markets serving nearly 15% of the US population.

For more information, please visit www.AtlanticLeague.com.

###