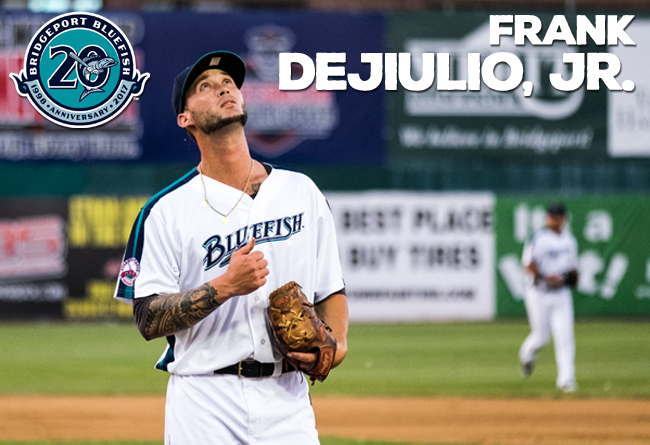 Pitcher Frank DeJiulio, Jr. will join the 'Fish for team's 20th Anniversary Season

(Bridgeport, Conn., Jan. 31, 2017) – The Bridgeport Bluefish today announced that pitcher Frank DeJiulio, Jr. will return to Bridgeport for the 2017 season.

"Frank proved to be a very reliable reliever for us last season," says Bluefish General Manager Paul Herrmann. "He's confident on the mound and we believe that he will continue to be a key member of our pitching staff."

Frank DeJiulio, Jr. returns to Bridgeport for his seventh season of professional baseball and third in the Atlantic League. He joined the 'Fish midway through the 2016 campaign in a trade with the cross-sound rival Long Island Ducks. In 28 mound appearances, he finished the season with a 4-0 record and a 1.44 ERA with 25 strikeouts in 25.0 innings.

The 27-year-old made his professional debut in 2011 after being selected by the Los Angeles Angels of Anaheim in the 38th round of the MLB draft. He spent two years with the Angels organization, playing for Single-A Cedar Rapids during the 2012 season. In 143 career minor league appearances, Frank owns a 16-14 record with 200 strikeouts in 221.0 innings of work.

About the Bridgeport Bluefish

The Bridgeport Bluefish are members of the Atlantic League of Professional Baseball and play their home games at The Ballpark at Harbor Yard. For further information, call 203-210-BLUE (2583) or visit BridgeportBluefish.com.

About the Atlantic League of Professional Baseball (ALPB)

The Atlantic League has been a leader in professional baseball and a gateway to Major League Baseball since 1998. Over 36 million fans have attended Atlantic League games and more than 800 players and 50 managers and coaches have joined MLB organizations directly from the ALPB. The Atlantic League emphasizes winning baseball games, showcasing the talent of top-caliber players and offering affordable family entertainment to metropolitan markets serving nearly 15% of the US population.

For more information, please visit www.AtlanticLeague.com.

###