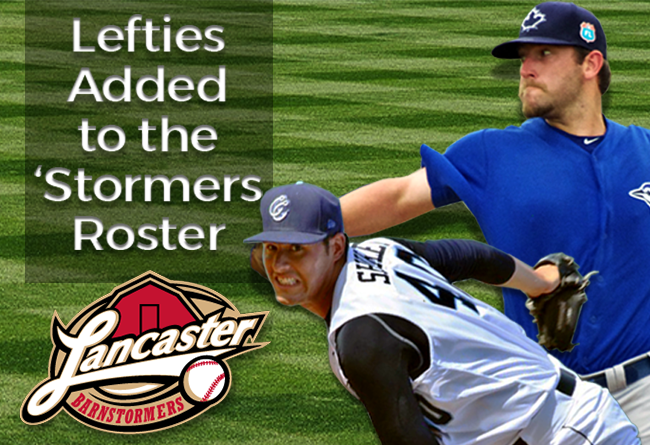 Pair of lefties added to 2017 corps

(Lancaster, Pa., March 3, 2017) - The Lancaster Barnstormers have signed left-handers Tommy Shirley and John Anderson to contracts for the 2017 season, it was announced today by manager Ross Peeples.

With the two signings, the Barnstormers now have 18 players under contract for the upcoming campaign, the 13th in franchise history.

Shirley, 28, signed with the Houston Astros in 2010 and performed a variety of roles in the Houston system. With Class AA Corpus Christi in 2014, the Pennsylvania native posted a 7-3 record with a 1.88 ERA in 17 appearances, including 13 starts. Last year, Shirley went 7-7 with a 5.38 ERA at Class AAA Fresno before signing with the Detroit Tigers late in the season and appearing in nine games for Class AA Erie.

In his career, the Xavier University product is 22-21 with a 3.45 ERA. He has a 2.6 strikeout to walk ratio over his seven professional seasons.

"Tommy has really good numbers over his career," said Peeples. "We are going to have him come in here and start to give us another lefty in the rotation."

Anderson, 28, signed with the Toronto Blue Jays in 2008 and has spent his entire career in the Toronto system. The California native spent a portion of the last two seasons with Class AAA Buffalo. Last year, Anderson was 4-9 between Buffalo and Class AA New Hampshire.

He is 23-32 with a 4.67 ERA over his career. Anderson has a lifetime strikeout to walk ratio of 2.2.

"Anderson is a power lefty that we will use out of the bullpen," said Peeples. "In his career, when he has pitched out of the pen for an entire year, he has been effective."

About the Lancaster Barnstormers

The Lancaster Barnstormers are entering their thirteenth season as a member of the Atlantic League of Professional Baseball. Home games are played at Clipper Magazine Stadium in downtown Lancaster, Pennsylvania. Please call 717.509.HITS (4487) or visit www.lancasterbarnstormers.com for more information.

About the Atlantic League of Professional Baseball (ALPB)

The Atlantic League has been a leader in professional baseball and a gateway to Major League Baseball since 1998. Over 36 million fans have attended Atlantic League games and more than 800 players and 50 managers and coaches have joined MLB organizations directly from the ALPB. The Atlantic League emphasizes winning baseball games, showcasing the talent of top-caliber players and offering affordable family entertainment to metropolitan markets serving nearly 15% of the US population.

For more information, please visit www.atlanticleague.com.

###