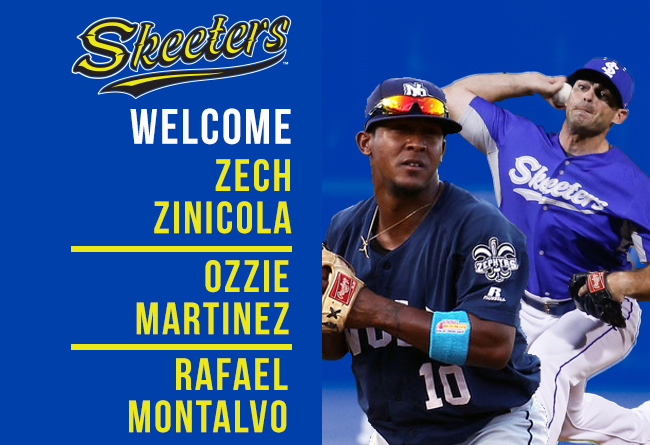 Montalvo promoted to pitching coach

(Sugar Land, Texas, March 9, 2017) – The Sugar Land Skeeters announced today that the club has re-signed right-handed reliever Zech Zinicola and added infielder and former big leaguer Ozzie Martinez for the 2017 season. The club has also announced that coach and former Atlantic League pitcher Rafael Montalvo has been promoted to pitching coach.

Zinicola, 32, returns for his second season with the Skeeters after appearing in 60 games in relief last season and posted a 2.93 ERA in 61.1 innings pitched with three saves. The right-hander helped the Skeeters during their 6-0 playoff run in 2016 as one of four Skeeters relievers who combined for a 1-0 record and allowed no runs in 10.1 IP, five hits, five strikeouts and three walks.

Zech was first drafted by the Atlanta Braves (43rd round) in the 2003 MLB Amateur Draft out of Arlington High School (Riverside, CA) and would later be drafted again by the Washington Nationals (6th round) in the 2006 Amateur Draft out of Arizona State University. While at Arizona State, he was teammates with a number of current major leaguers including Andrew Romine (DET) and Dustin Pedroia (BOS).

While in the Nationals system (2006-2012), Zinicola was among rising stars Bryce Harper (WAS) and Stephen Strasburg (WAS), as well as Chien-Ming Wang (KC) and former major leaguer Rick Ankiel before spending the 2013 season in the Baltimore Orioles system. He advanced as high as Triple-A with the Columbus Clippers and the Syracuse Chiefs in the Nationals system. He played a total of eight years in the minor leagues and had a career 3.74 ERA in 295 games in relief over 385.0 innings pitched.

Martinez makes his Atlantic League debut with the Skeeters after spending last season in the Baltimore Orioles system. The 28-year-old native of Carolina, Puerto Rico was first drafted by the Florida Marlins (11th round) in the 2006 MLB Amateur Draft out of Porterville College (Porterville, CA). He spent six seasons in the Marlins system, making his big league debut with the team in 2010. He was named the #5 prospect for the Marlins in 2011 and the #10 prospect for the Chicago White Sox the following year.

Martinez appeared in 14 games for the Marlins in 2010 and another 20 games in 2011, with a combined .258 batting average. In 2011, he was traded by the Marlins to the Chicago White Sox and would then spend time in the Los Angeles Dodgers, Atlanta Braves and Baltimore Orioles systems over the next five seasons.

After being a part of the coaching staff with manager Gary Gaetti last season as bullpen coach, former big leaguer Rafael Montalvo returns for his first season as pitching coach and brings thirteen years of professional baseball playing experience to Sugar Land. He spent time in the Los Angeles Dodgers, Houston Astros and California Angels systems. He pitched one season in the Atlantic League in 1999 for the Atlantic City Surf and went 10-8 in 24 starts with a 3.89 ERA. Overall he played 12 seasons in the minor leagues and was 49-40 with a 3.72 ERA in 914.0 innings pitched.

Rafael went on to serve as a pitching coach in the Tampa Rays organization from 2000-2009 at all levels ranging from Rookie ball to Triple-A in their minor league system. In 2010 he joined the Road Warriors as a pitching coach in the Atlantic League and served as pitching coach and special advisor from 2011-2015 for both Japan and Mexico Leagues.

About the Sugar Land Skeeters

The Skeeters play at Constellation Field, a state-of-the-art stadium located at the intersection of State Highway 6 and U.S. Highway 90A in Sugar Land. The Skeeters are a member of the Atlantic League of Professional Baseball (ALPB) and play 140 regular season games. The Skeeters Baseball Foundation promotes youth education and healthy activities lifestyles by providing support to culturally, racially and economically diverse areas of the community. For more information please call 281-240-4487 or visit sugarlandskeeters.com.

About the Atlantic League of Professional Baseball (ALPB)

The Atlantic League has been a leader in professional baseball and a gateway to Major League Baseball since 1998. Over 36 million fans have attended Atlantic League games and more than 800 players and 50 managers and coaches have joined MLB organizations directly from the ALPB. The Atlantic League emphasizes winning baseball games, showcasing the talent of top-caliber players and offering affordable family entertainment to metropolitan markets serving nearly 15% of the US population.

For more information, please visit www.AtlanticLeague.com.

###