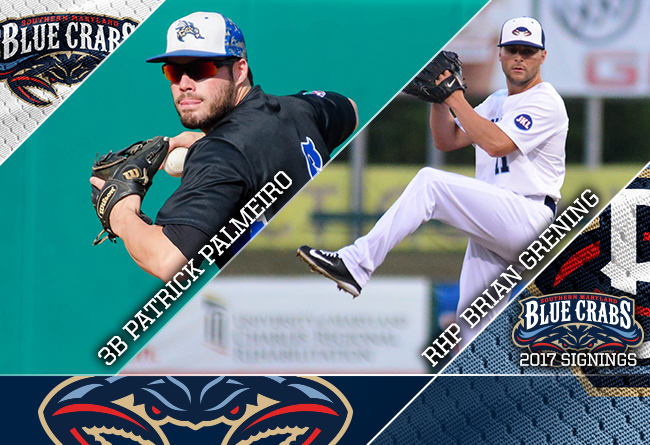 ALPB vets join the 10th Anniversary roster

(Waldorf, Md., March 16, 2017) – The Blue Crabs announced the signing of infielder Patrick Palmeiro and the re-signing of right-handed pitcher Brian Grening to the 10th anniversary season Blue Crabs roster on Thursday.

Patrick Palmeiro made his Atlantic League debut with the Sugar Land Skeeters in 2015. The third baseman was drafted in the 2008 MLB draft by the Pittsburgh Pirates out of Colleyville, Texas. Palmeiro played with the Chicago White Sox from 2012 to 2014. The son of MLB great Rafael Palmeiro, the 27-year-old was a part of the Skeeters 2016 Atlantic League Championship season.

Brian Grening returns to the Blue Crabs for a fourth season after posting his best season in Southern Maryland. The 31-year-old righty started the 2016 season in the bullpen but shifted to a full time starter prior to the all-star break. Grening posted a 3.08 ERA in 2016, the second best on the team overall and best for the team as a starter. He recorded the third most strikeouts while having the second-best record on the club. The Newport Beach, CA native also pitched two complete games in 2016.

"We're thrilled to have Palmeiro and Grening join the team," said Manager John Harris. "Palmeiro brings a strong skillset to our club. Grening's reliability and strength as a starter is a great tool to have every fifth day."

The team opens up the 2017 season on April 20th in Waldorf versus the Long Island Ducks. The team kicks off its 10th Anniversary season with Crustacean Celebration presented by Elite Beatz on April 8th. To save your seat at the ballpark for the upcoming season and other team news, visit http://www.somdbluecrabs.com or call 301-638-9788.

About the Southern Maryland Blue Crabs

The Blue Crabs play 140 regular season games in the Atlantic League of Professional Baseball Clubs. The Blue Crabs play at Regency Furniture Stadium in Waldorf, Maryland with affordable family fun. The franchise will open its tenth anniversary season on Thursday April 20, 2017. Please call 301-638-9788 or visit http://www.somdbluecrabs.com for more information and to reserve your seat at the ballpark today!

About the Atlantic League of Professional Baseball (ALPB)

The Atlantic League has been a leader in professional baseball and a gateway to Major League Baseball since 1998. Over 36 million fans have attended Atlantic League games and more than 800 players and 50 managers and coaches have joined MLB organizations directly from the ALPB. The Atlantic League emphasizes winning baseball games, showcasing the talent of top-caliber players and offering affordable family entertainment to metropolitan markets serving nearly 15% of the US population.

For more information, please visit www.AtlanticLeague.com.

###