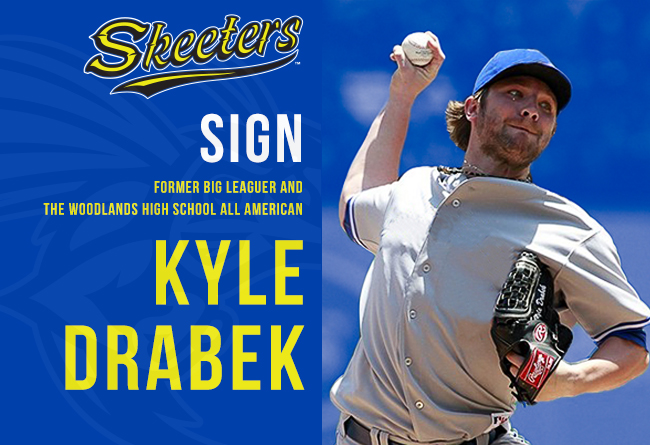 Woodlands, Texas native Kyle Drabek bolsters 2017 roster

(Sugar Land, Texas, March 21, 2017) - The Sugar Land Skeeters announced today that the club has signed former major leaguer and right-handed pitcher Kyle Drabek for the 2017 season. Drabek, who was an All-American player at The Woodlands High School in the Woodlands, Texas, joins the Skeeters for his first season in Sugar Land and the Atlantic League.

Drabek was originally selected as the 18th overall pick of the 2006 MLB Amateur Draft by the Philadelphia Phillies. The Texas native graduated from The Woodlands High School in 2006 and as a starting shortstop and pitcher he earned AFLAC, USA Today and Louisville Slugger High School All-American honors. During his career for the Highlanders he went 30-1 on the mound and hit 27 home runs. In his senior year for the Highlanders and playing alongside current Diamondbacks All-Start Paul Goldschmidt, Drabek hit .479 with six home runs as a shortstop and was 10-0 on the mound with a 1.18 ERA as the team's starting pitcher. He was named the 2005 and 2006 Texas 5-A Player of the Year and was selected by Baseball America as being a First Team All American.

The 6-foot-2 right-hander spent most of his major league career with the Toronto Blue Jays (2010-14). He pitched five seasons with Toronto appearing in 39 games, 30 as a starter. His most extensive time in the majors came in 2011 when he appeared in 18 games, 14 starts and compiled a 4-5 overall record. He made 13 starts the following season with the Blue Jays and was 4-7 with a 4.67 ERA.

The 29-year old, son of former major league Cy Young winner Doug Drabek, made his major league debut with the Blue Jays on September 15, 2010 at Baltimore and earned his first major league win against the Minnesota Twins on April 2, 2011 working seven innings and striking out seven in Toronto's 6-1 win. His father Doug also earned his first career win against the Minnesota Twins in 1986. Kyle entered the 2011 season rated by Baseball America as the No. 1 prospect in the Blue Jays' system. Baseball America also tabbed him as having the Best Curveball for five consecutive years (2007-2011 with the Phillies and Blue Jays).

Last season the San Francisco Giants signed Drabek on July 17th to a minor league contract to play shortstop at Triple-A Reno, a position he played while attending The Woodlands High School. Kyle would play in nine games at shortstop for the Triple-A Aces and pitched in 15 games, 11 as a starter.

In 2015 he made the Chicago White Sox Opening Day roster after being claimed off waivers from Toronto on March 27th. He spent most of the season in the White Sox minor league organization at Triple-A Charlotte going 7-11 with a 3.47 ERA in 24 starts. In 2014 he would appear in 32 games (13 starts) for the Jays' Triple-A Buffalo Bisons, going 7-7 with a 4.18 ERA (46ER in 99.0 IP). He was recalled from the minors on August 16th and appeared in two games for the Blue Jays. Drabek was named Buffalo's Comeback Player of the Year after recovering from his second Tommy John surgery in June 2012.

His best season in the minors was with Double-A New Hampshire (TOR) in 2010 when he was named Eastern League Pitcher of the Year after going 14-9 with a 2.94 ERA and 132 strikeouts over 27 starts. He threw the first 9.0-inning no-hitter in Double-A New Hampshire history on July 4, 2010 vs. New Britain. During his minor league career, he would post a career record of 56-51 with a 4.12 ERA in 177 games (148 starts). In 2007 he was rated the No. 2 prospect for the Phillies organization and was named to the South Atlantic League All-Star team. In July, he would have season-ending Tommy John surgery.

In 2009, he split the season between Single-A Clearwater and Double-A Reading (PHI) going 12-3 with a 3.19 ERA in 25 games (23 starts). He earned Florida State League All-Star honors and was named to the U.S. Roster on the MLB All Star Futures game in St. Louis in 2009. On December 16, 2009, he was the centerpiece of one of the biggest trades in Phillies history after being sent to the Toronto Blue Jays along with Travis d'Arnaud and Michael Taylor in exchange for ace pitcher Roy Halladay.

About the Sugar Land Skeeters

The Skeeters play at Constellation Field, a state-of-the-art stadium located at the intersection of State Highway 6 and U.S. Highway 90A in Sugar Land. The Skeeters are a member of the Atlantic League of Professional Baseball (ALPB) and play 140 regular season games. The Skeeters Baseball Foundation promotes youth education and healthy activities lifestyles by providing support to culturally, racially and economically diverse areas of the community. For more information please call 281-240-4487 or visit sugarlandskeeters.com.

About the Atlantic League of Professional Baseball (ALPB)

The Atlantic League has been a leader in professional baseball and a gateway to Major League Baseball since 1998. Over 36 million fans have attended Atlantic League games and more than 800 players and 50 managers and coaches have joined MLB organizations directly from the ALPB. The Atlantic League emphasizes winning baseball games, showcasing the talent of top-caliber players and offering affordable family entertainment to metropolitan markets serving nearly 15% of the US population.

For more information, please visit www.AtlanticLeague.com.

###