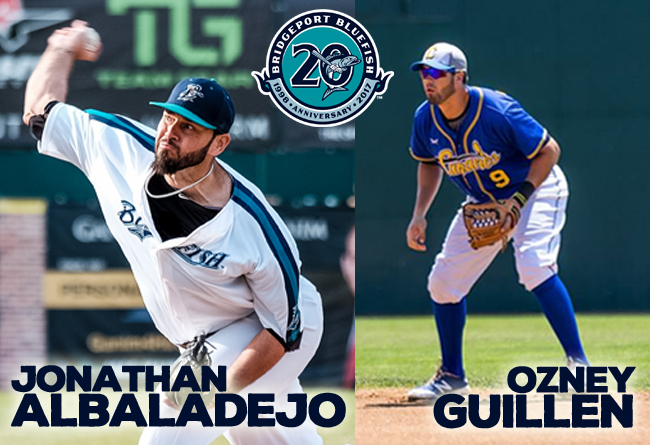 Former big leaguer Jonathan Albaladejo returns; 'Fish also sign OF Ozney Guillen

(Bridgeport, Conn., March 21, 2017) – The Bridgeport Bluefish today announced that Jonathan Albaladejo, who was named the 2016 Atlantic League Pitcher of the Year, will return to Bridgeport for the team's 20th Anniversary Season. Outfielder Ozney Guillen, the son of former Chicago White Sox Manager Ozzie Guillen, will also join the squad this summer.

"Jonathan was outstanding on the mound for us last season so we're thrilled to have him back," says Bluefish General Manager Paul Herrmann. "It will also be great to have a young player such as Ozney join us this season. He's incredibly passionate about the game and has a strong desire to succeed. Jonathan's dominance and Ozney's versatility will be dynamic to our club this season in our quest for an Atlantic League Championship."

Jonathan Albaladejo returns to Bridgeport for his 17th season of professional baseball and second in the Atlantic League. Last year, the pitcher made 28 appearances for the Bluefish (all starts) and finished the season with a 4.07 ERA, earning 15 victories and striking out 164 batters in 172.2 innings. Those 164 strikeouts were enough to break the single-season Atlantic League record, and his 15 wins broke the Bluefish franchise single-season record. He was also named as a 2016 Atlantic League All-Star, as well as Pitcher of the Year. The 34-year-old made his professional debut in 2001 after being selected by the Pittsburgh Pirates in the 19th round of the MLB draft. He spent six seasons with the Pirates organization, before signing with the Washington Nationals in 2007 where he made his Major League debut. In 2008, he was signed by the New York Yankees and spent parts of the next three campaigns with their big league club. He also appeared with the Arizona Diamondbacks in 2012. In 66 career Major League games, Albaladejo owns a 6-3 record with a 4.34 ERA and 56 strikeouts in 76.2 innings. In 384 career minor league appearances, Jonathan owns a 67-42 record with a 3.42 ERA and 851 strikeouts in 949.1 innings of work.

Ozney Guillen joins the Bluefish for his Atlantic League debut and fourth season of professional baseball. Last year, the outfielder played with Sioux Falls of the independent American Association, where he hit .241 with two home runs, 21 RBI, 25 runs scored, and six stolen bases across 67 games. Ozney is the son of former Chicago White Sox Manager Ozzie Guillen, who guest-managed one game for the Bluefish on Friday, August 19, 2016. The 25-year-old was originally drafted out of high school by the Chicago White Sox in the 22nd round of the 2010 MLB draft. He made his professional debut in 2014 with Normal of the independent Frontier League. He spent two seasons with Normal before joining Sioux Falls in 2016. In 233 career minor league games, Ozney owns a .237 batting average with 14 home runs, 98 RBI, 102 runs scored, and 27 stolen bases.

About the Bridgeport Bluefish

The Bridgeport Bluefish are members of the Atlantic League of Professional Baseball and play their home games at The Ballpark at Harbor Yard. For further information, call 203-210-BLUE (2583) or visit www.BridgeportBluefish.com.

About the Atlantic League of Professional Baseball (ALPB)

The Atlantic League has been a leader in professional baseball and a gateway to Major League Baseball since 1998. Over 36 million fans have attended Atlantic League games and more than 800 players and 50 managers and coaches have joined MLB organizations directly from the ALPB. The Atlantic League emphasizes winning baseball games, showcasing the talent of top-caliber players and offering affordable family entertainment to metropolitan markets serving nearly 15% of the US population.

For more information, please visit www.AtlanticLeague.com.

###