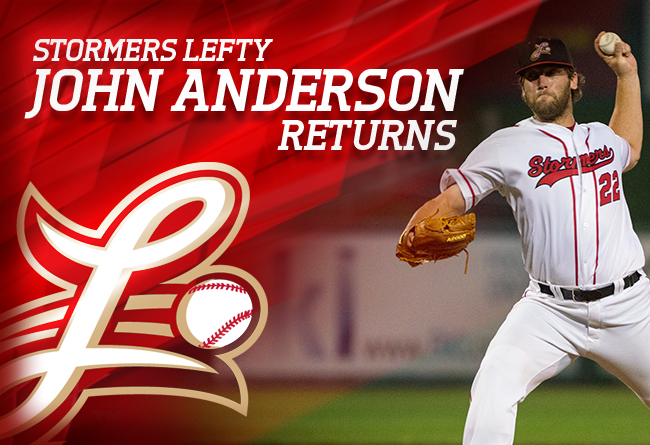 Winner of season finale back for second season

(Lancaster, Pa., March 5, 2018) - Left-hander John Anderson, a stalwart of the Lancaster bullpen in 2017, will return for a second season with the Barnstormers, it was announced today by manager Ross Peeples.

He becomes the 22nd player under contract with the Barnstormers for the upcoming campaign.

Anderson, 29, appeared in 56 games for the Barnstormers in 2017, posting a 3-1 record with a 3.00 ERA. The southpaw yielded only 43 hits in 60 innings of work while walking 39 and striking out 74.

The native of California had 11 consecutive scoreless appearances from July 4 thru August 6 and allowed only four earned runs in 33 innings (1.09 ERA) in the second half of the season.

In the season finale against York on September 17, Anderson entered the game in the bottom of the 10th inning of an 8-8 deadlock. He faced three batters in the 10th, striking out two. After the Barnstormers gained a 10-8 edge on a Lance Zawadzki homer in the top of the 11th, Anderson, in the first at bat of his professional career, singled home an insurance run. He then retired the side in order in the bottom of the inning.

Prior to joining the Barnstormers, Anderson spent nine seasons in the Toronto Blue Jays farm system, reaching Class AAA Buffalo in each of his last two years.

"Anderson had a solid year for us last year," said Peeples. "He can have a very durable arm in our pen as he can go an inning if need be or grind it out for three. He will be a guy we can use in several different ways out there."

About the Lancaster Barnstormers

The Lancaster Barnstormers have completed their thirteenth season as a member of the Atlantic League of Professional Baseball. Home games are played at Clipper Magazine Stadium in downtown Lancaster, Pennsylvania. Please call 717.509.HITS (4487) or visit www.lancasterbarnstormers.com for more information.

About the Atlantic League of Professional Baseball (ALPB)

The Atlantic League has been a leader in professional baseball and a gateway to Major League Baseball since 1998. Over 38 million fans have attended Atlantic League games and more than 900 players and 50 managers and coaches have joined MLB organizations directly from the ALPB. The Atlantic League emphasizes winning baseball games, showcasing the talent of top-caliber players and offering affordable family entertainment.

For more information, please visit www.AtlanticLeague.com.

###