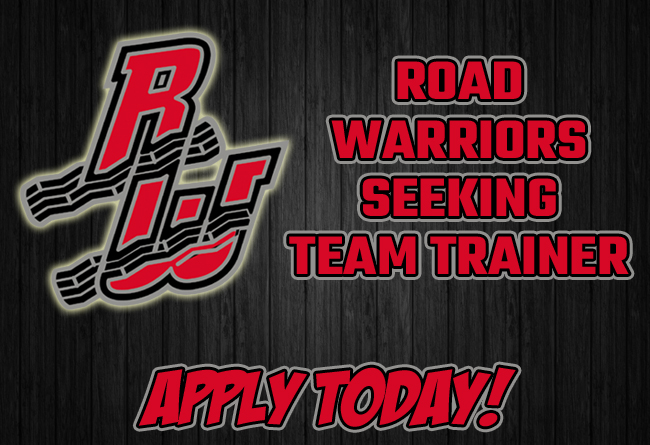 The Atlantic League of Professional Baseball ("ALPB") is seeking an Athletic Trainer for its "Road Warriors" travel team for the 2018 Championship Season.

Interested candidates may apply for the position by CLICKING HERE.

Job Description

The Atlantic League seeks a Seasonal Athletic Trainer ("SAT") to work with the Road Warriors team. This opportunity provides an exciting, hands-on experience practicing a comprehensive approach to professional athlete care. The SAT will be an integral member of the team and will report directly to Road Warrior Manager and Coach. The Road Warriors will travel throughout ALPB communities in the Mid-Atlantic and Texas during a season which runs from mid-April through mid-September. The team will play 100% of its games on the road. The Trainer will receive salary, per diem and free lodging throughout the season.

Duties and Responsibilities include but are not limited to:

• Provide comprehensive athletic medical and preventative care for all team roster and staff members
• Work independently as the sole medical provider for traveling athletes
• Monitor training sessions and assist with pre/post game and practice preparation/therapy
• Implement and/or carry out injury prevention, treatment, and rehabilitation programs
• Manage training room activities, including acquisition, maintenance and transport of supplies
• Document daily injury evaluations, treatments, and rehabilitation
• Assist with travel preparation, management and communication
• Demonstrate a high level of professionalism at all times
• Activate emergency protocols when necessary
• Assist with issues concerning insurance
• Manage player and host club communications via hand held device app
• Other duties and projects as assigned

Qualifications:

• BOC certification or equivalent accreditation
• Possess an athletic training license or be eligible for National Athletic Trainer's Association certification
• At least three years Trainer/Assistant Trainer experience (elite athlete experience preferred)
• Proficient with manual therapy and rehabilitation techniques
• Excellent interpersonal skills
• Fluency with lap top computer and electronic device utilization
• Spanish and English language skills (speaking, writing) preferred, but not essential
• Must pass an ALPB background screening prior to hire
• Possess a valid US driver's license
• Positive, constructive attitude; Ability to remain calm during stressful or complicated situations
• Strong organization and problem-solving skills

About the Atlantic League of Professional Baseball (ALPB):

The Atlantic League has been a leader in professional baseball and a gateway to Major League Baseball since 1998. Over 38 million fans have attended Atlantic League games and more than 900 players and 50 managers and coaches have joined MLB organizations directly from the ALPB. The Atlantic League emphasizes winning baseball games, showcasing the talent of top-caliber players and offering affordable family entertainment.

For more information, please visit www.AtlanticLeague.com.

###