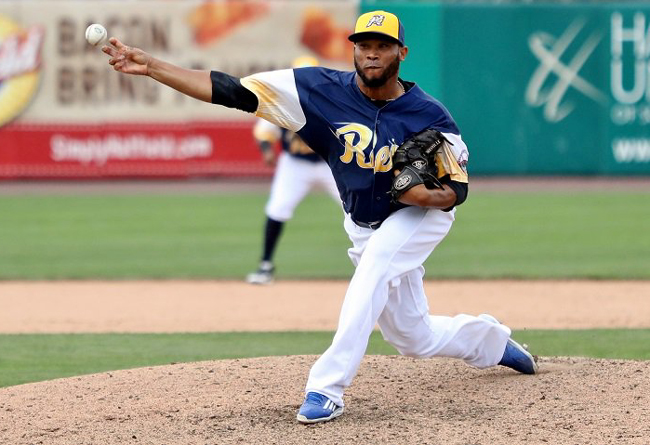 Revs Bring in Five More Players Before Spring Training

​(York, Pa., April 11, 2018) — The York Revolution have added five more players to their 2018 roster, welcoming right-handed pitchers Ricardo Gomez, Mitch Atkins, and Jay Gause, catcher Jay Carp, and outfielder Jared Mitchell. Four of the five were signings, while Atkins joins the team via trade. The Revs' roster moves were unveiled by manager Mark Mason live on Tuesday night's episode of "Revs Hot Stove Weekly presented by Shipley Energy" on SportsRadio 1350 WOYK.

Gomez returns for his ninth season in the Atlantic League and sixth with York. He ranks at or near the top of the leaderboard in Revs' history in a handful of categories, including ERA (1st), strikeouts (3rd), and saves (4th), and looks to add to his stellar career in his age-40 season. Gomez went 4-4 with a 3.26 ERA with 47 strikeouts in 41 games last season. The veteran reliever won his second ring with the Revs in 2017, as he was a member of the 2011 championship team as well. He has also spent two seasons each with the Long Island Ducks and Lancaster Barnstormers. Gomez was signed as an amateur free agent by the Pirates in 1997 as a 19-year-old and pitched at Rookie ball in their system for two seasons, followed by two seasons in the Yankees' system between Single-A and High-A.

"I love Ricky, I really do. He's a tremendous competitor and a great teammate. He excels in the biggest situations and doesn't back down from anybody," Mason said. "He has a lot of fun when he's out there. He has a lot of experience, and somebody who's not afraid to take the baseball when the game is on the line or in a tough situation."

Atkins was acquired by York in exchange for RHP Chase Huchingson in a March trade with the Somerset Patriots. The right-hander began the 2017 season with Somerset and went 4-3 with a 4.21 ERA in 11 starts over 62.0 innings. He was picked up by the Mets' organization in June and went on to pitch at Triple-A Las Vegas, going 4-8 with a 5.65 ERA in 14 starts over 78.0 innings. Atkins spent 2016 between Double-A and Triple-A in the Red Sox system and 2015 at those same levels in the Braves system. Atkins reached the Major Leagues with the Cubs in 2009 and 2010, making a combined seven appearances over 12.0 innings. He also made three starts for the Orioles during the 2011 season. Atkins was originally selected by the Cubs in the seventh round of the 2004 MLB Draft out of high school.

"We liked everything that he brought to the table. I thought he had good stuff and good command," Mason said. "We're going to look at him to come in and start for us. I think that's probably where he'd be best suited."

Gause is back for another year with the Revs after posting a 10-4 record with a 3.67 ERA in 19 games (16 starts) in a breakout 2017. The big right-hander had 74 strikeouts in 90.2 innings and pitched in two postseason games. He was a key member of York's championship team after not pitching at all in 2015 and 2016 because of "dead arm." Gause was drafted by the Astros in the 10th round of the 2014 MLB Draft and pitched in nine games that season at Low-A.

"He was probably the most vocal competitor (we had last season). That was one of the first things that stuck out to me." Mason said. "He just got better and better as the season went on. He's a guy that we can look at I believe to eat up some innings for us. He never wants to come out of the game."

Carp played in six games for York last season in a limited role and enters training camp this season with a chance to provide depth at catcher. The 23-year-old started his professional career in 2016 after attending Chaffey College and played in 23 games with the Utica Unicorns of the United Shore Professional Baseball League.

"I thought he received the ball well, he has a strong enough arm, there's no doubt about it," Mason said. "He's an ultimate team guy. I just thought that was somebody that deserved an opportunity to come to spring training."

Mitchell is the team's most recent signing and comes to camp after playing in 122 games for the Revs in 2017. The outfielder hit .295 with 14 home runs, 62 RBI and went 24/30 in stolen base attempts. Mitchell started the 2016 season at Double-A Trenton in the Yankees' system before playing in 69 games for York, and 11 games for the New Jersey Jackals in the Can-Am Association. Prior to that, he spent time in the minors with the White Sox and Angels, reaching as high as Triple-A with both organizations. Mitchell was a first-round pick (23rd overall) of the White Sox in the 2009 MLB Draft out of Louisiana State University.

"For us last year, he kind of reinvented himself as a hitter. You saw him bunt the ball more often, obviously one of the faster guys in the league. Hit the ball the other way, he worked on that every day. And defensively, he made some tremendous plays out there and probably had our strongest arm from the outfield. We're glad to have Jared back."

The Revs now have 31 players under contract for the 2018 season heading into Spring Training. The team's annual Fan Fest is scheduled for Saturday, April 21, and the Atlantic League regular season begins April 26 with the Revs hosting the Lancaster Barnstormers at 6:30 p.m. at PeoplesBank Park.

About the York Revolution

The York Revolution Professional Baseball Club is a member of the Atlantic League of Professional Baseball. The Revolution were Atlantic League Champions in 2010, 2011, and 2017. The 2018 season will be the team's 12th. Located at 5 Brooks Robinson Way, PeoplesBank Park hosts all 72 home games, in addition to myriad events through the entire calendar year. For tickets or more information, please call 717-801-HITS (4487) or visit the Revolution online at www.YorkRevolution.com.

About the Atlantic League of Professional Baseball (ALPB)

The Atlantic League has been a leader in professional baseball and a gateway to Major League Baseball since 1998. Over 38 million fans have attended Atlantic League games and more than 900 players and 50 managers and coaches have joined MLB organizations directly from the ALPB. The Atlantic League emphasizes winning baseball games, showcasing the talent of top-caliber players and offering affordable family entertainment.

For more information, please visit www.AtlanticLeague.com.

###