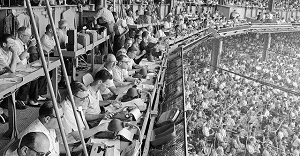 By: Bob Wirz

Major league spring training has an abundance of intriguing storylines for Independent Baseball fans this year regardless of anyone's favorite league, but it is difficult topping what the Atlantic Eight brings to the table.

I have dubbed it the Atlantic Eight because of the fact eight players who were in the Atlantic League either for a long spell or for a cup of coffee last season are in major league camps fulltime, which may never have been accomplished by any league since the Independent frenzy started back in 1993.

The American Association has been out-pacing the Atlantic League in the pure number of former players in the majors in some recent times, but the Atlantic goes out of its way to declare its players "major league ready", and the league's argument is very strong right now.

Veteran left-hander Rich Hill, who made an important foray into the Atlantic League (Long Island, NY) last summer on the way to sizzling as a starter at Boston in September then signing a $6.1 million contract with Oakland in the offseason, is the only one of the Atlantic Eight on a 40-man roster although he is far from standing alone in representing the newest group of Atlantic Leaguers vying for regular-season jobs.

Minnesota has the strongest contingent in raw numbers and possibly the other top candidates to make it to Opening Day with outfielder Joe Benson (Sugar Land, TX) and southpaw relievers Dan Runzler (Sugar Land) and Buddy Boshers (Somerset, NJ. World Champion Kansas City has comeback-minded righty Chien-Ming Wang (Southern Maryland), Atlanta has Sugar Land lefty Hunter Cervenka, righty Tim Stauffer (Sugar Land) is with Arizona and infielder Robert Andino (Somerset) is making his comeback bid with Miami. All technically carry the tag non-roster invitee at the moment.

Hill, being counted on in the Athletics' rotation, struggled in his first start by walking three, giving up two hits and a run while only retiring four batters. Stauffer has not pitched, at least in a regular Cactus League game, but everyone else has put up decent numbers in the early going (through Monday). Boshers and Runzler, at least one of whom could land in the Twins' bullpen, both have had two scoreless outings of an inning apiece and Benson, getting action nearly every day in the Grapefruit League so far, has gone 2-for-8 with a walk, double, RBI and run.

Wang, at Southern Maryland briefly while trying to get his career back on track, has now worked three scoreless innings for the Royals, giving up two hits and collecting two strikeouts. Cervenka has two scoreless frames while Andino has gone 2-for-7 plus two walks and has scored twice in four appearances.

One other 2015 Atlantic League pitcher, Long Island lefty Donnie Veal, has gotten into a Cactus League game, coming from Texas's minor league camp for at least one day. He was touched for two runs in an inning of work.