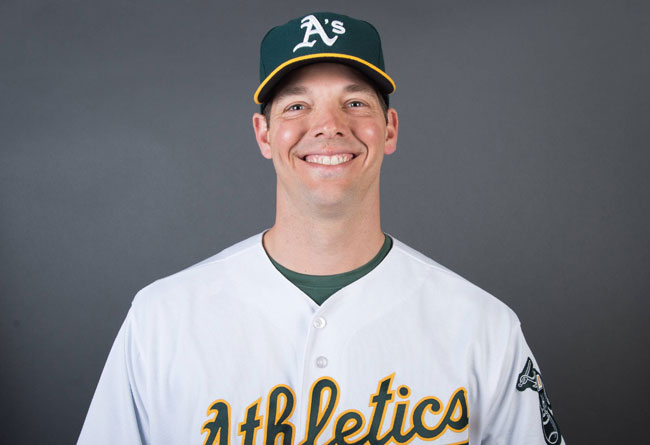 Fighting through surgeries and tragedy, Rich Hill is getting another major-league chance.
By: Ken Rosenthal

MESA, Az. -- So much had to happen.

The Nationals granting his release last June 24. Moving to the third-base side of the rubber during his period of unemployment. Finding the one team -- in independent ball, no less -- that would allow him to start again.

And that wasn't all of it.

Left-hander Rich Hill, who underwent shoulder surgery in 2009 and Tommy John surgery in '11, needed his arm to be strong enough for him to again throw over the top.

He also needed another pitcher to experience misfortune -- specifically, Red Sox righty Steven Wright, who suffered a concussion in early August after getting struck in the neck by a ball during batting practice.

"If Steven Wright doesn't get hit in the head, I might not even get called up in September," Hill said.

Hill, who turns 36 on Friday, believes that things happen for a reason, but his stunning revival is not due to a series of chance occurrences. No, it is mostly due to his steadfast belief that after more than six years as a reliever, he could be a starting pitcher again.

Four brilliant starts with the Red Sox in September -- his first since 2009 -- were enough for Hill to land a one-year, $6 million free-agent contract from the Athletics. If things indeed happen for a reason, who knows what might happen next?

This is the story of a pitcher who fought through his surgeries, endured the loss of an infant son to health issues two years ago and rejected an easier path back to the majors as a left-handed specialist.

In a perfect world, Hill will continue his late-career surge and land an even bigger contract next offseason, perhaps one comparable to free-agent lefty J.A. Happ's three-year, $36 million deal with the Blue Jays.

"He never wavered," said Keith Miller, a former major-league infielder and outfielder who is one of Hill's agents at ACES Baseball. "He wanted to start, wanted to start, wanted to start."

Hill, seeing no clear path to the majors in his minor-league deal with the Nationals, planned to exercise his out clause last June. He did not have a job waiting when the Nats released him. He went home to Milton, Mass., just south of Boston, and began working out with his old American Legion team.

The Red Sox, his major-league club from 2010 to '12, asked him if he would go to Double-A. Hill said he was not opposed, but after years of working as a side-armer, he decided to find out whether his shoulder could withstand him throwing over the top.

The initial signs were good.

Jared Porter, the Red Sox's pro scouting director at the time, came to watch Hill throw at Milton H.S. In the view of Porter, who now works for the Cubs, Hill never really had gotten hit, he had just struggled to throw strikes.

Early in the workout, Porter noticed the same problem again, and suggested that Hill move from the first-base side of the rubber to the third-base side. Voila! Hill's fastballs started tailing into the strike zone instead of out of it.

The Red Sox still didn't have an opening, which proved a stroke of good fortune -- "If they had signed me that day, I would have never started," Hill said.

At the same time, he needed a job.

"We talked to all the clubs," Miller said. "Several clubs wanted him to come to Triple-A and pitch out of the 'pen. But nobody was willing to give him a spot in the rotation in Triple-A. It was understandable, the guy hadn't started in six years. But he was adamant about starting. He didn't want to go back into the bullpen.

"It was probably a month where we tried to get him anywhere in an organization to get into the rotation in the minor leagues. Nobody was willing to do it. So finally I said, 'If you really want to start -- and obviously you do -- you have to get back out pitching now. Enough time has gone by.'

"The whole time he had been throwing bullpens at home, stretching out. I said, 'If you really want to start -- really, really want to do it -- then the only place to go, where I can get you a spot in the rotation, is independent ball.'

He said, 'Let's do it.'"

So much for his agents' idea of getting back to the majors as a reliever, then stretching out his arm in winter ball in preparation to start.

As a reliever in Triple-A, Hill could have earned $15,000-$20,000 per month, Miller said. But on July 28, Hill signed with the Long Island Ducks, who play in the independent Atlantic League at 6,002-seat Bethpage Ballpark.

The standard salary in the league is $2,000-$2,500 per month. But for Hill, opportunity was more important than money.

"The Atlantic League is a showcase league, perfect for players in these types of situations, to come in and take advantage of the platform to better their careers and open the door to new opportunities," Ducks general manager Michael Pfaff said. "Rich did just that."

Hill made only two starts for the Ducks, allowing just two hits in 11 scoreless innings. The Red Sox, faced with an opening in their rotation at Triple-A, signed him to a minor-league contract on Aug. 14. However, they did not promise a September call-up.

Wright's injury helped create an opening. So did physical issues with Matt Barnes and later Joe Kelly. Hill produced a 2.78 ERA in five starts at Triple-A. Then, with the Red Sox needing a starter who could provide innings, he delivered the most surprising four-start stretch in the majors last season:

IP 29, H 14, SO 36, BB 5, ERA 1.55.

"In a month, he went from the bump at Bethpage Ballpark to Yankee Stadium," Pfaff said. "Mission accomplished."

Hill said he felt like all four of his starts for the Red Sox could have been complete games, instead of just one. He said the ball came out of his hand "even cleaner" than it did in 2007, his best year as a starter, when he had a 3.92 ERA in 195 innings for the Cubs.

Then free agency began, and he and his wife, Caitlin, experienced a different kind of rush.

The Athletics are Hill's ninth organization. After his shoulder surgery in '09, he signed one minor-league contract after another. But those four starts in September changed everything.

"In the beginning, there were some offers out there where my wife and I were looking at each other and saying, 'Is this a good idea that we're not taking this? Is this the right thing that we're doing?'

"I was humbled. There were 20-plus teams that were interested. There were some teams that actually offered more money than Oakland. There was a better financial opportunity. But here just felt like the right opportunity."

The Athletics are known for their diligence with sabermetrics, but Hill's agents told him that the team had done significant background work on him, talking to "everybody in your past that has ever coached you."

"Particularly with free agents, we've found out over the years how difficult it is to bring in a guy and know him," Athletics GM David Forst said. "When you trade for a guy, at least you can ask the other GM, 'Hey, what's he like?'

"Free agency, all you have is the word of his agent. You can't talk to other teams about a free agent. You don't want to necessarily alert people that you're on a guy. It's really hard. And because clubhouse chemistry was an issue for us last year, it was important with (Ryan) Madson, (John) Axford, all these guys, to know a little bit about them before we brought them in."

Hill was impressed, sensing that the Athletics truly wanted him. The team's pitcher-friendly ballpark, O.co Coliseum, helped pitchers such as Bartolo Colon and Scott Kazmir re-establish their careers. Why not another?

Seriously, after all that Rich Hill has overcome, who is going to stop him now?

http://www.foxsports.com/mlb/story/the-incredible-comeback-of-rich-hill-030916