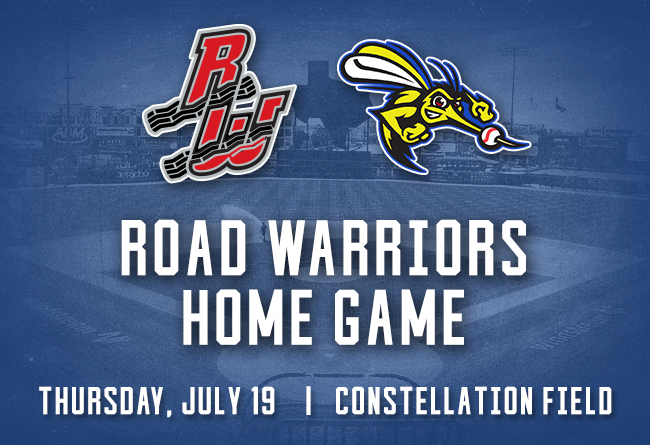 (Sugar Land, Texas, July 19, 2018) - The Sugar Land Skeeters today announced that they will cede home-field advantage to the Road Warriors on Thursday night for the finale of their seven-game series at Constellation Field. It will mark the first home game for the Road Warriors in the franchise's seven years of existence.

Skeeters President Jay Miller, in conjunction with Atlantic League President Rick White, elected to make the move as a kind gesture to the Road Warriors, who are slated to play all 126 regular-season games this year without a home ballpark.

"The Road Warriors have an incredibly tough job playing all their games on the road and we figured this was the least we could do for all the hard work they've done to help keep the league running," Miller said. "We pride ourselves on being gracious hosts and we wanted to do our part to help make their grind a bit easier."

Some of the features for Thursday night's contest will include the Road Warriors getting their own walk-up music, which they have yet to be afforded during the regular season, along with batting in the bottom half of innings. First pitch for Thursday night's contest is set for 7:05 p.m., with Skeeters right-hander Konner Wade set to face off against Road Warriors left-hander Andres Caceres.

Individual tickets are available now at SugarLandSkeeters.com, our mobile app, and at the TDECU Ticket Office at Constellation Field. For more information, call 281-240-4487.

About the Sugar Land Skeeters

The Skeeters play at Constellation Field, a state-of-the-art stadium located at the intersection of State Highway 6 and U.S. Highway 90A in Sugar Land. The Skeeters are a member of the Atlantic League of Professional Baseball (ALPB) and play 126 regular season games. The Skeeters Baseball Foundation promotes youth education and healthy activities lifestyles by providing support to culturally, racially and economically diverse areas of the community. For more information please call 281-240-4487 or visit sugarlandskeeters.com.

About The Atlantic League of Professional Baseball (ALPB)

The Atlantic League has been a leader in professional baseball and a gateway to Major League Baseball since 1998. Over 38 million fans have attended Atlantic League games and more than 900 players and 50 managers and coaches have joined MLB organizations directly from the ALPB. The Atlantic League emphasizes winning baseball games, showcasing the talent of top-caliber players and offering affordable family entertainment.

For more information, please visit www.atlanticleague.com.

###