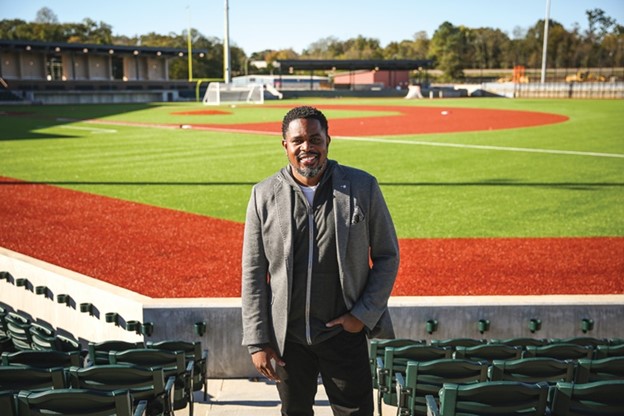 In July, when Brandon Bellamy was introduced as the owner of a new Atlantic League of Professional Baseball team in Gastonia, N.C., he fondly recalled the covert scouting trips he had made before committing to buying and bringing an expansion club to town.
"I would drive through the community, I would stop, I would shake hands, I would talk to random people," Bellamy said, chuckling. "And they probably thought it was weird because I would ask them questions. Like, 'If Gastonia was a person, what type of personality would you describe it as?'"
What people told him, Bellamy said, was how much pride they had in their city, how much enthusiasm they had for the baseball-anchored project that had already been approved and started before landing a team or an owner. Most of all, they told Bellamy, they wanted to see their city grow and thrive.
Their pride and enthusiasm, in turn, made Bellamy want to invest in a city that, until recently, he never knew existed. In doing so, he became the only Black majority team owner in baseball.
Gastonia, located 20 miles west of Charlotte, has a population of 77,000. It's a former textiles hub that has been forced to shift to other manufacturing and economic sectors in recent decades as textiles moved overseas. And it's very much a work in progress.
Annual median income in Gastonia is $46,301, or 12% below North Carolina's $52,413 overall. The poverty rate is 18.4%, according to Census figures, well above the state's 13.6%.
The current campaign to boost the local economy revolves around a signature, 16-acre mixed-use development downtown, anchored by a $40 million ballpark/multiuse stadium built on speculation by taxpayers.
That's where Bellamy comes in.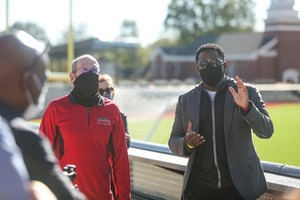 Gastonia's leaders were impressed with Bellamy's commitment to the project when he first reviewed the plans. Mayor Walker Reid said Bellamy told him, "I can do this. I want to do this."
Photo: Melissa Key / Charlotte Business Journal
During a pandemic that forced all of minor league baseball to scrap the 2020 season, Bellamy defied conventional wisdom and bought an expansion minor league baseball team — and not at a discount. This from a self-described baseball novice.
Bellamy is CEO of Maryland real estate firm Velocity Companies, and that background played a large role in his decision to commit $5 million for the team and related startup costs. What is, for the moment, known as the Gastonia Pro Baseball team will introduce its team name and logo later this year and begin playing (they hope) next spring in the independent league.
Velocity Companies specializes in real estate projects in lower-income neighborhoods, mixing commercial investments with Bellamy's early career experience in affordable housing. Velocity has developed office, retail and residential projects, mostly in the suburbs of Washington, D.C.
Gastonia Mayor Walker Reid said that, while his city is smaller and perhaps more far-flung than Velocity's typical investments, the opportunities and challenges it presents instantly clicked with Bellamy.
"Brandon understood our story," Reid said. "Where others possibly would have ran away from it. Because you want to go where it's good. Brandon wasn't that type. He said, 'Show me.' That's when it kicked in. He said, 'I can do this, I want to do this.' Based on his track record, he'll make it happen."
Bellamy, 48, stands out for another reason with his latest investment. When he closed the deal to buy the team and signed a 20-year lease to operate the Gastonia ballpark, Bellamy became the only majority Black owner in all of baseball and, according to Baseball America, the first since the late 1980s.
Bellamy didn't grow up a baseball fan, but he's well-versed in selling the game already. During an interview, he wondered aloud how and why baseball lost touch with the Black community and vowed to make inroads in Gastonia with youth leagues and other outreach.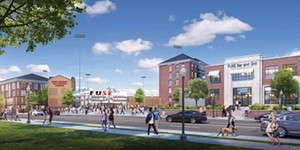 The ballpark anchors a mixed-use project called the Franklin Urban Sports and Entertainment District, or FUSE for short.
Photo: City of Gastonia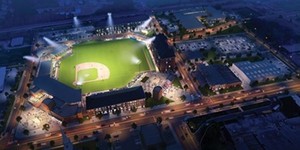 Photo: City of Gastonia
As for being the lone majority Black owner in the sport, he said, "I'd be lying if I didn't say that I was aware. But it's the same thing I say when people say, 'You're a minority company.' I'm, like, 'No, we're just a commercial real estate company. I just happen to be Black.' I never approached it from the perspective of, 'Oh, we're a minority company.' We just want to be great at being a commercial real estate company. Same thing here."
Jonathan Fine, a sports attorney and consultant, helped Bellamy negotiate the agreement with the city of Gastonia. Fine pointed to Bellamy's business acumen and real estate expertise as crucial assets for making the ballpark-anchored district a success.
Beyond those attributes, "Particularly, in today's social environment in America, I can't imagine a better time for Brandon to be in this role. Here is someone who has made his professional life uplifting communities in need with real estate projects."
Rick White, the Atlantic League president, found Bellamy through a friend's recommendation and approached him about investing in the team. The league had already expanded into North Carolina with a team in High Point that began play in 2019. And Gastonia already had the approved ballpark project with the larger adjacent real estate play to entice an investor.
White said he was intrigued by adding Bellamy as an owner because real estate expertise is an especially valuable asset as adjacent development trickles down from the big leagues — think The Battery in Atlanta or Texas Live! in Arlington — to the minors.
White also embraced Bellamy's stated interest in creating a model in Gastonia that could be replicated in other minor league cities. In Gastonia, the ballpark occupies seven of the 16 city-assembled acres in what's called the Franklin Urban Sports and Entertainment (FUSE) District. The city and Velocity Companies have entered into a development agreement for the surrounding land that the partners estimate could result in $100 million of private investment.
■ ■ ■ ■
The friend who suggested Bellamy is Dennis Crawford, a former University of North Carolina football player whose entrepreneurial ventures included owning hardware stores in the Washington, D.C., area. One was located in a tough neighborhood in Seat Pleasant, Md., on the D.C.-Maryland line, where Crawford was asked by an acquaintance to consider hiring a young man who was a good kid falling victim to poor choices.
The young man was Brandon Bellamy, a self-described slightly wayward teenager who Crawford quickly realized was whip-smart and full of potential.
In 1995, as Bellamy worked in the office in back of the store, a gunman marched Crawford into the room and directed him to open the walk-in safe. Bellamy jumped up and told the robber to salvage the situation by stepping away and avoiding the inevitable legal trouble to follow.
The gunman kept the gun on Crawford and threatened to shoot him.
"Brandon says, 'No, don't shoot him, he's a good guy — shoot me,'" Crawford told Sports Business Journal. "You don't have to sell Brandon to me." The gunman still robbed the store but no one was harmed.
Crawford, now retired, is so sold on Bellamy that he plans to buy a minority share in the Gastonia team.
White said the ambition of the baseball-FUSE project adds to Bellamy's potential impact.
"He understands that he can be an inspiration to many," White said. "Not on the field but as somebody that understands the opportunities around business. The ballclub becomes a symbol."
One of Bellamy's baseball consultants, David Martin, in September became chief operating officer of the Gastonia team. Martin has worked in baseball and motorsports and has extensive ties in North Carolina.
Martin said Bellamy is a quick study who is going to be both a hands-on owner and one who trusts in hiring talented people to use their best judgment to push the organization forward.
Gastonia leaders have always envisioned the ballpark as a multiuse venue designed to do much more than host baseball games. Martin anticipates booking 75 to 100 outside events next year, ranging from Kiwanis Club meetings to concerts. Artificial turf will allow for heavy use, including high school football, soccer, lacrosse and more.
Beginning in 2022, Martin and Bellamy aim to pair the 70 home baseball games with 175 outside events annually. Bellamy said he plans to be in Gastonia regularly, but balancing his responsibilities with his real estate firm means he will lean heavily on his local management team.
"He was very upfront from the beginning and he said, 'I'm going to need you to be an integral part of running this baseball thing because I don't know what I'm getting myself into,'" Martin said.
What Bellamy does know is the satisfaction of overcoming long odds and triumphing as an underdog.
Or, as he put it, "Again, we work in communities that are oftentimes overlooked. Lots of small towns and rural communities are often overlooked and sometimes they've got a chip on their shoulder. And I agree with them — I'm on frequency with that chip."
Erik Spanberg writes for the Charlotte Business Journal, an affiliated publication.