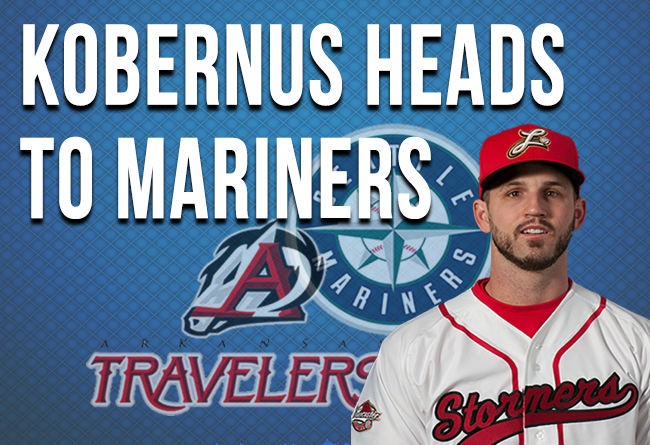 Seattle purchases contract of Barnstormers second baseman

(Lancaster, Pa., May 18, 2017) - The Seattle Mariners have purchased the contract of Lancaster Barnstormers second baseman Jeff Kobernus, it was announced today.

He will report to the Mariners Class AA affiliate in Arkansas.

Kobernus, 28, was in his second season with the Barnstormers. The former Washington Nationals utility player carried a .310 batting average over seven games around missing three weeks with an injury. He had one double and two stolen bases. As the Lancaster second baseman in 2016, Kobernus batted .295 and stole 22 bases in 55 games.

Drafted out of the University of California by the Nationals in 2009, Kobernus won two stolen base crowns (Class A Carolina League and Class AA Eastern League) on his climb through their system. He reached the Major Leagues in 2013 and spent a portion of two years at the big league level.

Prior to coming to Lancaster, Kobernus spent the 2015 season with the San Francisco Giants' minor league system.

"Jeff has been a great player for us," said Lancaster manager Ross Peeples. "He is fun to watch and very deserving of this opportunity."

About the Lancaster Barnstormers

The Lancaster Barnstormers are entering their 13th season as a member of the Atlantic League of Professional Baseball. Home games are played at Clipper Magazine Stadium in downtown Lancaster, Pennsylvania. Please call 717.509.HITS (4487) or visit www.lancasterbarnstormers.com for more information.

About The Atlantic League of Professional Baseball (ALPB)

The Atlantic League has been a leader in professional baseball and a gateway to Major League Baseball since 1998. Over 36 million fans have attended Atlantic League games and more than 800 players and 50 managers and coaches have joined MLB organizations directly from the ALPB. The Atlantic League emphasizes winning baseball games, showcasing the talent of top-caliber players and offering affordable family entertainment to metropolitan markets serving nearly 15% of the US population.

For more information, please visit www.atlanticleague.com.

###