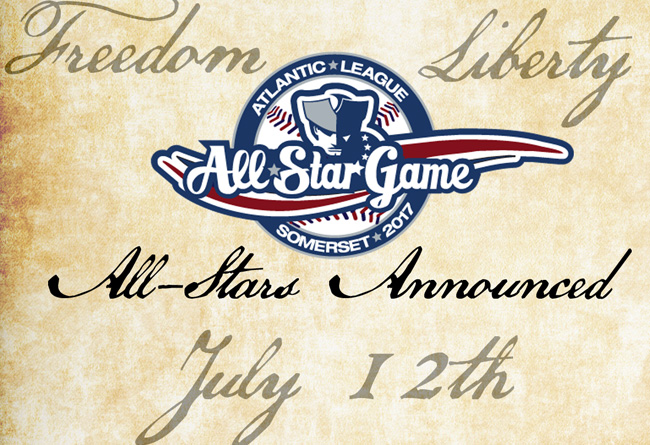 The 20th Atlantic League All-Star Game will take place on July 12th At TD Bank Ballpark in Bridgewater, N.J.

(Bridgewater, N.J., July 3, 2017) – The Atlantic League of Professional Baseball have announced the Freedom and Liberty Division All-Stars selected to play in the 2017 Atlantic League All-Star Game to be hosted at TD Bank Ballpark on Wednesday, July 12th. The All-Star festivities will begin at the ballpark at 5:00 pm, with the game scheduled for 7:10 pm.

Both squads will feature 22 players, including 13 position players and nine pitchers (rosters at end of this story). Players were chosen by a combination of balloting of league and team officials, managers, media representatives and fan voting. Nearly 35,000 ballots were cast by fans to help choose this year's squads.

"Every year I am impressed by the players that represent our league and this year's All-Stars are no exception," said Atlantic League President Rick White. "Each showcase their talents at a very high level of play, which has led to a league record 38 player contracts being purchased already this season by Major League Baseball and international leagues. Fans will see the very best Atlantic League players in an All-Star setting. TD Bank Ballpark is an award-winning ballpark and I am very excited for our players and fans to experience an All-Star experience in Somerset."

The home Liberty Division is made up of eight Somerset Patriots, five Bridgeport Bluefish, five Long Island Ducks, and four New Britain Bees. The team will be managed by Somerset's Brett Jodie, who guided his team to the Liberty Division First Half Championship and a league best 42-28 record. In his five seasons as manager of the Somerset Patriots, Jodie's teams have made the playoffs every year. He won Atlantic League Championship and Manager of the Year honors in 2015.

The visiting Freedom Division consists of seven Southern Maryland Blue Crabs, six York Revolution, five Lancaster Barnstormers, and four Sugar Land Skeeters. Sugar Land's Gary Gaetti will manage the squad after leading the Skeeters to their first championship in 2016. The 20-year Major League veteran is the only manager in Sugar Land history and was named Manager of the Year in 2013 when his team set a league record with 95 wins.

"We are honored to be the site of the 20th Atlantic League All-Star Game," said Somerset Patriots Chairman Steve Kalafer, a founding member of the Board of Directors of the Atlantic League. "As one of the original members of the league, it's a fitting place to celebrate this milestone event. The rosters reflect the very best of our league and we owe it to the players and all of the fans to make it an All-Star Game they'll always remember."

The 2017 Atlantic League All-Star Game is the premiere event of the summer, hosted by the Somerset Patriots at TD Bank Ballpark on Wednesday, July 12th. The event is presented by RWJBarnabas Health and Horizon Blue Cross Blue Shield of New Jersey and will feature the biggest Fireworks Show in ballpark history, commemorative giveaways for all ages, entertainment from the ZOOperstars and Birdzerk, and a Home Run Derby before the game. For tickets, stop by the ballpark, call (908) 252-0700 or visit www.somersetpatriots.com.

About The Atlantic League of Professional Baseball (ALPB)

The Atlantic League has been a leader in professional baseball and a gateway to Major League Baseball since 1998. Over 36 million fans have attended Atlantic League games and more than 800 players and 50 managers and coaches have joined MLB organizations directly from the ALPB. The Atlantic League emphasizes winning baseball games, showcasing the talent of top-caliber players and offering affordable family entertainment to metropolitan markets serving nearly 15% of the US population.

For more information, please visit www.atlanticleague.com.

###


Freedom Division
Liberty Division
PITCHERS
PITCHERS

Brad Allen

York Revolution

Duane Below

Somerset Patriots

Cody Eppley

So. Maryland Blue Crabs

John Brownell

Long Island Ducks

Brian Grening

So. Maryland Blue Crabs

David Carpenter

Bridgeport Bluefish

Jake Hale

Sugar Land Skeeters

Amalio Diaz

Long Island Ducks

Gaby Hernandez

So. Maryland Blue Crabs

David Kubiak

Somerset Patriots

Chase Huchingson

York Revolution

Rainy Lara

Bridgeport Bluefish

Michael Nix

Sugar Land Skeeters

Cory Riordan

Bridgeport Bluefish

Scott Shuman

Lancaster Barnstormers

Nate Roe

New Britain Bees

Daryl Thompson

So. Maryland Blue Crabs

Rick Teasley

Somerset Patriots

CATCHERS
CATCHERS

Anderson De La Rosa

Lancaster Barnstormers

Alex Burg

Long Island Ducks

Isaias Tejeda

York Revolution

Yovan Gonzalez

Somerset Patriots

INFIELDERS
INFIELDERS

Kevin Ahrens

Sugar Land Skeeters

Tyler Bortnick

Somerset Patriots

Michael Burgess

York Revolution

Carlos Guzman

Somerset Patriots

Vladimir Frias

Lancaster Barnstormers

Luis Hernandez

Bridgeport Bluefish

Sean Halton

Lancaster Barnstormers

Elmer Reyes

Long Island Ducks

Michael Snyder

So. Maryland Blue Crabs

Jovan Rosa

New Britain Bees

Garrett Weber

Lancaster Barnstormers

Angelo Songco

Long Island Ducks

Zach Wilson

So. Maryland Blue Crabs

OUTFIELDERS
OUTFIELDERS

Anthony Giansanti

Sugar Land Skeeters

Conor Bierfeldt

New Britain Bees

Alonzo Harris

York Revolution

Michael Crouse

New Britain Bees

Devon Rodriguez

So. Maryland Blue Crabs

Aharon Eggleston

Somerset Patriots

Travis Witherspoon

York Revolution

D'Arby Myers

Bridgeport Bluefish

Justin Pacchioli

Somerset Patriots

COACHES
COACHES

Gary Gaetti - Manager

Sugar Land Skeeters

Brett Jodie - Manager

Somerset Patriots

Raffy Montalvo - Pitching Coach

Sugar Land Skeeters

Glen Barker - Hitting/3B Coach

Somerset Patriots

Travis Scott - Bench Coach

Sugar Land Skeeters

Cory Domel - Pitching Coach

Somerset Patriots

Fox Beyer - Bench Coach

Somerset Patriots

Jon Hunton - Bullpen Coach

Somerset Patriots