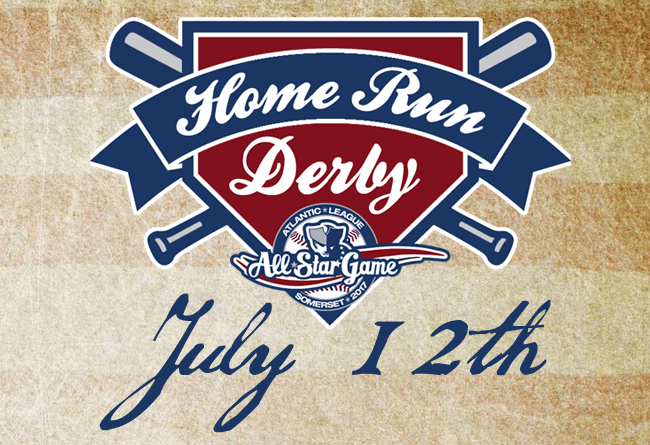 Six sluggers will square off before the All-Star Game

(Bridgewater, N.J., July 10, 2017) - The Atlantic League of Professional Baseball and the Somerset Patriots have announced the participants of the 2017 All-Star Game Home Run Derby to take place at TD Bank Ballpark on Wednesday, July 12th.

The six participants were among the top home run hitters from the first half of the 2017 season. Sean Halton (15 home runs) and Garrett Weber (11 home runs) of the Lancaster Barnstormers, along with Zach Wilson of the Southern Maryland Blue Crabs (12 home runs) will represent the Freedom Division. Angelo Songco of the Long Island Ducks (14 home runs) will be joined by Conor Bierfeldt (13 home runs) and Michael Crouse (11 home runs) of the New Britain Bees to represent the Liberty Division squad.

The event will begin on the field at 6:00 pm and will be emceed by New York Yankees broadcaster John Sterling and Somerset Patriots radio broadcaster Marc Schwartz. Sterling has served as the play-by-play man for the Yankees since 1989, having never missed a single game in his 27 seasons in the broadcast booth. This streak includes a notable 2005 season where Sterling called every single pitch of every Yankees game that year.

The format of the Home Run Derby will be a two-round contest with all six participants hitting as many home runs as they can before reaching seven outs in the first round. The top two home run hitters will advance to the final round, where they will see who can hit the most home runs before reaching 10 outs. Each round will have tie-breakers if necessary.

The winning player will receive the All-Star Game Home Run Derby Champion Trophy.

The 2017 Atlantic League All-Star Game is the premiere event of the summer, hosted by the Somerset Patriots at TD Bank Ballpark on Wednesday, July 12th. The event is presented by RWJBarnabas Health and Horizon Blue Cross Blue Shield of New Jersey and will feature the biggest Fireworks Show in ballpark history, commemorative giveaways for all ages, entertainment from the ZOOperstars and Birdzerk, and a Home Run Derby before the game. For tickets, stop by the ballpark, call (908) 252-0700 or visit www.somersetpatriots.com.

About The Atlantic League of Professional Baseball (ALPB)

The Atlantic League has been a leader in professional baseball and a gateway to Major League Baseball since 1998. Over 37 million fans have attended Atlantic League games and more than 800 players and 50 managers and coaches have joined MLB organizations directly from the ALPB. The Atlantic League emphasizes winning baseball games, showcasing the talent of top-caliber players and offering affordable family entertainment to metropolitan markets serving nearly 15% of the US population.

For more information, please visit www.atlanticleague.com.

###