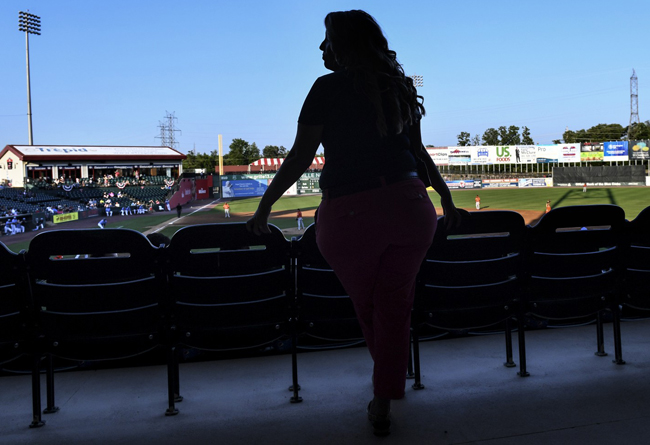 By: Adam Kilgore

(Photo courtesy of Toni L. Sandys/The Washington Post)

(Waldorf, Md., July 21, 2017) - Courtney Knichel stood on the concourse along the third base line, right behind the season-ticket holders, her favorite place to watch the Southern Maryland Blue Crabs. In 10 years working for the team, she has come to love these moments: the scent of popcorn and fried dough, the howls of the crowd, twilight encroaching with the opening innings on a Friday night. She wore what she calls her game outfit: a blue polo, red khakis, loafers and a walkie-talkie on her right hip labeled, "BOSS LADY."

Earlier, she had consoled the Blue Crabs' field manager, satisfied a disgruntled fan, rejiggered the Atlantic League all-star team, corralled a fussy pack of balloons and picked up stray trash. The day's fires had been put out, so Knichel let herself think this might be the rare night she would be in bed before 10 and would see her husband and 3-month-old daughter, Kennedy, somewhere other than the custom calendar tacked to her office wall.

Knichel checked the weather app on her phone and saw a new obstacle: a blob of green and yellow, inching toward Regency Furniture Stadium. She would have one more decision to make.

"We got to see what happens," Knichel said.

As the general manager of the Blue Crabs, Knichel often relies on that sentiment. She inherited the position late in 2015, a decade after joining the team at its inception as an intern. The manager, John Harris, makes personnel decisions, as is standard in the eight-team, independent Atlantic League. She does not evaluate players beyond checking Baseball-Reference.com and has no aspiration to scout.

But Knichel approves and executes every move, negotiates contracts and oversees every department: ticket sales, marketing, sponsorships, operations, all of it. When Harris wants to add a player, she signs off. When she wants to refurbish the paddleboat pool behind the left field wall, she cuts a deal with a local pool company. When she sees stray trash on the concourse, she picks it up.

Knichel's gender makes her position notable, but she will not allow it to dictate how she views or performs her job. "Literally the only difference is having to answer that kind of question," she said. But in small moments, she can sense how those around her are accustomed to working exclusively with men.

"I'll get on those GM calls, and our league president will be like, 'Hey, fellas. Hey men,' " Knichel said. "He'll email and say sorry. I'm like, 'Dude, I know.' It's okay. I know I'm playing ball with the boys. I know I'm in a male-dominated industry. You don't have to say, 'Hey fellas and lady.' I'm used to it."

In 1998, New York Yankees General Manager Brian Cashman hired Kim Ng, a contractual expert, as an assistant general manager. Twenty years later, having held several front-office positions, Ng works in the commissioner's office. She interviewed five times for GM jobs without breaking through, and the number of women in front-office baseball operations roles has remained near zero. Jean Afterman, who replaced Ng with the Yankees, is the only female assistant general manager in the majors. A study the Blue Crabs performed last year turned up two female general managers in the affiliated minor leagues, in which GMs have no say over the roster.

"Certainly, there are more women in a variety of positions now than ever before," said Amy Trask, who served as the Oakland Raiders' chief executive for more than two decades. She pointed specifically to Jeanne Bonk, Hannah Gordon and Katie Blackburn, who hold high-ranking, business-side titles with the Chargers, 49ers and Bengals.

But women work in sports in small proportion compared with men, especially when it comes to personnel. As major league sports teams seek out executives with analytical expertise and business backgrounds, playing experience — and, therefore, gender — matters less than ever. The shift is not represented in hiring practices. The online program for the 2017 Sloan Sports Analytics Conference in Boston — which included executives, players, coaches, media members and marketers from across all sports — listed 36 women among 236 speakers, about 15 percent.

So Knichel, even on the periphery of professional sports, is a rare figure. She still views herself as a diligent lifer in a job she loves, not a trailblazer or torch carrier.

"I'm not really a feminist," Knichel said. "I was a hard worker, but I know nothing else. I love this life. I came in in 2008. I had nothing else. I always tell my husband, 'This was my first love.' Do I want to see them hire more women? I just want the hardest worker to get the chance. . . . Maybe the story would be better if I was, like, so pro-hire women. But I'm not. Hire the hardest worker. That's what I think."

'Wow, she's impressive'

Knichel's career path started with an accident. She had grown up in Benedict watching the Orioles and tagging along to her brothers' baseball games but never envisioned working in sports. At Muskingum University in Ohio, Knichel studied marketing and communications and planned to be a news anchor.

Late in her senior year, her mother, Tina Wagner, applied her for an internship at the new ballpark being built in Waldorf. Knichel was at a sorority party when she learned she got the job. She wrote the details down on a napkin.

Knichel showed up for her first day in stilettos and dress pants. She learned she would be changing out trash bags. When the cleaning crew quit one night, interns rushed to the park at 2 a.m. to pick up trash. But she fell in love with baseball, with the tightknit feel of the staff, with the community the team created.

The Blue Crabs became entwined with her life. The salary wasn't much, so she cashed in savings bonds and scooped ice cream to pay her rent. She moved to assistant marketing director, then marketing director. She met her husband in the front office. The old general manager left after the 2015 season, and Knichel took over. In April, she went into labor while finishing the yearbook. In the delivery room, she thrust pages at Wagner and yelled, "Edit this!"

"There was speculation she would give birth to their child in her office because she worked right up to the last minute," league President Rick White said. "She was back on the job within two weeks. The way she handled it was a great testimony to her drive and perseverance."

Jack Lavoie, a Virginia lawyer, bought the majority share of the Blue Crabs this winter and met with Knichel.

"She could answer every question from dollars and cents to who's in the Pinch costume," Lavoie said. "In some respects, it was totally coincidental she was a woman. We just came in and said, 'Wow, she's impressive.' She was invaluable to us."

Each day, for Knichel, poses its own challenges.

On this day, she had a serious issue: The guy who played the team mascot, Pinch, had left the team, and the new mascot had a conflict.

"Zach," Knichel said to an intern, "you're doing it tonight."

Many independent league players are not used to seeing a woman in the clubhouse. Last year, one player made a crack about Knichel peeking at unclothed players. In explicit language, Knichel told him never to say anything like that again. The player no longer plays for Southern Maryland.

"I roll my eyes. I walk away. I get on to the next thing," Knichel said. "The first time I went in there and they made comments, 'Oh, you're looking . . .' — that [ticked] me off. I'm a professional. 'If I wanted to do that, I would do that. I don't really give a [care] about you.' You're nothing but a number to me — that particular guy. I have no room here for that. I had to learn not to get offended by that kind of stuff."

"She's the type of woman who, she's going to tell you what it is, right then and there," starting pitcher Daryl Thompson said. "She's not going to bite her tongue. That might intimidate some guys, to be honest. I feel like if you have a problem, then you're just intimidated."

Feels like family

As Knichel made her way through the crowd, she wished happy birthday to one fan, stopped to chat with another about her newborn and congratulated a player's new wife on her wedding. Her father works in the sheriff's department, and her mother is an assistant principal. On any given night, she might see her postal worker sitting in the stands or the choir from her church singing the national anthem. The ballpark, to her, feels like a family gathering.

Zach, wearing the Pinch costume, came over to tease her. "We don't do hand symbols," she told him. "Put your hands down." She glared. "Now you're looking at me!"

As the sun set, the Blue Crabs mounted a comeback and tied the score at 4. But as she checked her phone, Knichel realized it might be a longer night than she thought. She moved to the front row behind the Blue Crabs' dugout. After the sixth inning ended, she walked up to the home plate umpire and told him, "We've got weather."

She returned to the front row and worried. A black cloud peeked over the press box, blowing in from left field. She might not make it home early, after all. Knichel flicked on her walkie-talkie.

"Courtney to Blue Crabs staff," she said. "Everybody should be in tarp clothes in about 10 minutes."

When the seventh inning ended, she decided to postpone the game. As she told the crew chief and the umpires waved players off the field, two Long Island Ducks stood on the dugout railing, raised their hands and cursed at Knichel to keep the game going.

Her employees had assembled behind the tarp in right field. Knichel sprinted down the right field line and grabbed the middle. Every available member of the Blue Crabs pulled on the giant, white sheet of plastic — the intern who played Pinch, the director of sales, the batboy, the GM.

"Hold it low!" Knichel shouted.

Wind kicked up the tarp. The sky grew darker. Mist formed. The plastic stretched over the infield. Two staffers scurried to move a bench onto the corner of the tarp. Just as both teams reached their clubhouses, a deluge began.

Knichel took cover with her staff in the dugout. She wouldn't be in bed by 10. She tucked her chin to her chest and pinched the top of her nose.

The rain stopped. She marched through the outfield and special-knocked on the clubhouse door. She needed Harris and Long Island Manager Kevin Baez to check the field conditions.

"9:25?" Harris asked Baez, kicking at the damp grass.

"9:25 is good," Baez said.

Knichel texted a staffer in the press box, and over the loudspeakers came the announcement. "The game will resume at 9:25."

"Just like that," Knichel said, "we're good."

Knichel walked alone through the damp outfield grass, the stadium lights creating a clover of shadows around her. She didn't yet know players would thank her for the perfect timing on the tarp or the Blue Crabs would score a run to win, 5-4, or Harris would feel a little better about his team.

Sometimes, in the winter, Knichel will walk to the events room in the left field corner of the stadium. She will stop and look at the empty field and shut her eyes — "cliche, like a Nicholas Sparks novel," she said. She can hear the stands and see the first baseman holding a runner on. "That brings me back to why I love it so much," she said.

As she walked back across the outfield, Courtney Knichel knew she wouldn't leave the ballpark until after 10 p.m. But she already was home.

https://www.washingtonpost.com/sports/nationals/for-blue-crabs-gm-i-know-im-playing-ball-with-the-boys/2017/07/20/6b67da5e-6681-11e7-8eb5-cbccc2e7bfbf_story.html?utm_term=.9bcd1c59a842