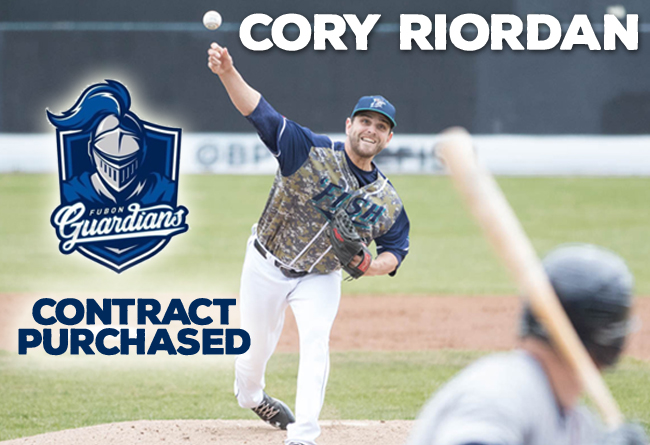 Riordan is seventh Bluefish to have contract purchased during 2017 season

(Bridgeport, Conn., July 27, 2017) – Bridgeport Bluefish team officials have announced that starting pitcher Cory Riordan has had his contract purchased by the Fubon Guardians of the Chinese Professional Baseball League (CPBL) in Taiwan.

"Cory has been great for us on the mound this year, as well as in 2015 during his Bluefish debut," says Bluefish General Manager Paul Herrmann. "We wish him the best of luck overseas."

Riordan has made 14 starts for the Bluefish in 2017, earning seven victories with a 3.29 ERA and striking out 88 batters in 93.0 innings of work. He was also named an Atlantic League All Star earlier this month. Cory made his Atlantic League debut in 2015 with the 'Fish, posting a 3.61 ERA after striking out 82 batters in 117.0 innings pitched across 18 appearances (17 starts). Midway through the 2015 season, his contract was purchased by the Lamigo Monkeys of the CPBL. He returned to Bridgeport and finished the 2015 campaign with the 'Fish, and was then signed by the Detroit Tigers organization that following offseason. Last year, he split time between Triple-A Toledo of the International League and Double-A Erie of the Eastern League, both affiliates of the Tigers. In 27 combined games, Riordan earned six wins with a 4.86 ERA and 113 strikeouts in 153.2 innings of work.

Cory is the seventh Bluefish player to have his contract purchased during the 2017 season.

About the Bridgeport Bluefish

The Bridgeport Bluefish are members of the Atlantic League of Professional Baseball and play their home games at The Ballpark at Harbor Yard. For further information, call 203-210-BLUE (2583) or visit www.BridgeportBluefish.com.

About the Atlantic League of Professional Baseball (ALPB)

The Atlantic League has been a leader in professional baseball and a gateway to Major League Baseball since 1998. Over 37 million fans have attended Atlantic League games and more than 800 players and 50 managers and coaches have joined MLB organizations directly from the ALPB. The Atlantic League emphasizes winning baseball games, showcasing the talent of top-caliber players and offering affordable family entertainment to metropolitan markets serving nearly 15% of the US population.

For more information, please visit www.AtlanticLeague.com.

###