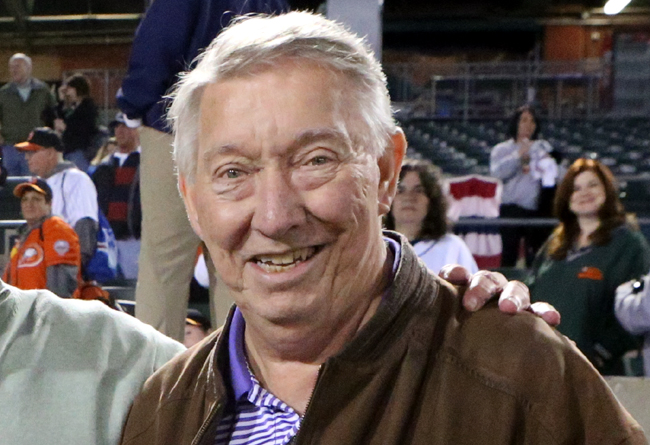 Former player, scout, GM, skipper passed away on Tuesday
By: Tracy Ringolsby

Joe Klein loved to relive the days when he was the scouting director and Minor League director for the Rangers. One day Joe Marchese, a scout out of Chicago who would spend the spring evaluating talent in Florida, showed up at the Rangers' Minor League complex in Plant City, Fla., and told Klein he had to go with him to check out a high school pitcher.

"I'm in uniform," Klein said he told the scout. "Workouts are about to begin."

Marchese assured Klein it was no big deal. He didn't need to change clothes. They could drive over to Plant City High School, he could look at this kid from the car and be back in time for workouts to begin.

A few minutes after arriving, Klein began to wonder where the pitching prospect was. Marchese told him to check out the shortstop.

"He's a left-handed shortstop," Klein said.

"But watch that arm action," said Marchese.

Marchese assured Klein the high school player had no intention of going to college, was overlooked by other scouts and would be a very reasonable sign. So when it came time to make the pick in the 39th round of the 1982 Draft, Klein acquiesced and drafted Kenny Rogers, who signed for a reported $500 bonus.

"I went to extended spring in Sarasota, and my first day, I was throwing a bullpen for the first time in my life and tripped over the rubber," Rogers said.

Rogers made adjustments, as his 219 big league wins in a career that covered all or parts of 20 seasons attests.

And Klein? He kept plugging away in the game of baseball, a 55-year relationship that came to an end on Wednesday morning, a day after his 75th birthday. Airlifted to Temple University Hospital on Aug. 4 for a quadruple bypass, Klein never left the hospital. He was taken off life support systems after his kidneys and liver malfunctioned on Tuesday afternoon.

"Without a doubt, he was the most loyal human being I have been around in my life," said Jeff Scott. "He was that way when I met him 46 years ago and he was that way until he passed away. That, to me, stands out more than anything that happened on a baseball field."

Scott was a third-round Draft choice out of Kankakee, Ill., in June 1972, when Klein was managing in the Rangers' system. And two years later, he played for Klein at Double-A Pittsfield, the start of a relationship that saw Scott work with Klein in scouting and player development for the Rangers and Indians, and more recently in the independent Atlantic League, where Klein had been the executive director since the league was formed 20 years ago.

Klein was a baseball lifer, who seemed to find challenges wherever he went. He had three shots at being a general manager, each time being in charge of a club that was going through financial challenges.

Originally signed by the Washington Senators as a first baseman, Klein spent six years in the Minor Leagues before moving into a Minor League managerial role with the franchise, moving with it to Texas, where his career path included time as the farm director/scouting director. He eventually became general manager for the 1983-84 seasons during the ownership of Eddie Chiles, who made his money in the oil field servicing business, and once told Rangers manager Don Zimmer to fill out production estimate cards each week for every player.

Klein was the general manager of the Indians (1985-87) when they were overseen by the estate of the late Steve O'Neill, eventually leaving when the team was purchased by the Jacobs Brothers and a contingent from Baltimore, led by Hank Peters, were hired to run the franchise.

And Klein was general the manager of the Detroit Tigers (1994-95) during the early years of the Mike Ilitch ownership era, where he oversee a major remake of a franchise that won a World Series championship in 1985, was upset by the Twins in the 1987 American League Championship Series, and embarked on a 19-year stretch in which it had only three winning seasons, and suffered through 109 losses (1996), 106 loses (2002) and 119 losses ('03).

Through good times and bad, Klein never changed. He was a believer in teamwork.

Klein was still playing in the Washington Senators' system when they drafted Tom Grieve in the first round of the 1966 Draft, and was the farm director and scouting director who hired Grieve after his playing career.

And it was Grieve, who eventually replaced Klein as the Rangers' general manager.

"Virtually everything I learned about scouting and player development came from Joe," said Grieve. "He had a very low ego. You felt you were part of a team, working side by side. You always knew he was the boss, but he was a guy who was right there, next to you in the trenches. I was fortunate to have had him in my life. There were challenges, but he didn't complain."

Klein had that ability to keep things in perspective. He would occasionally relive the 1982 Winter Meetings in Honolulu. Klein had just become general manager and had a trade in place to acquire a package of players from the Dodgers, including two young pitchers named Dave Stewart and Orel Hershiser. Ownership killed the deal.

"If that trade had gone through, I might have still been the general manager in Texas," Klein said decades later.

Klein shrugged his shoulders. Disappointed? Sure. Upset? Nah. It wasn't Klein's way. He dealt with reality and always looked forward to what was ahead.

http://m.mlb.com/news/article/250121842/joe-klein-left-impact-on-game/