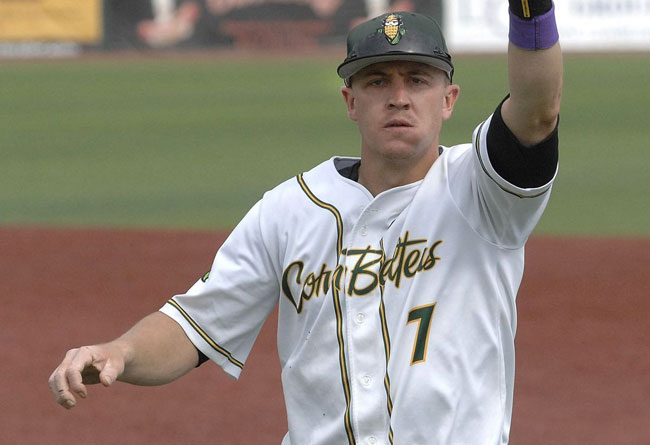 (Bridgewater, N.J., Feb. 7, 2018) - The Somerset Patriots have signed four-time Frontier League All-Star first baseman Aaron Dudley.

"I couldn't be more excited to join Somerset," said Dudley. "I have heard nothing but amazing things about the Patriots. I look forward to taking what I've learned in Normal and bringing that to Somerset to get that ring back!"

Dudley enters his first season with the Somerset Patriots and first in the Atlantic League. He brings with him a decorated resume from his time in the Frontier League with the Normal Cornbelters. There, Dudley earned four All-Star selections over his five seasons (2013-17) and became the franchise's all-time leader in RBI (290) and doubles (120). Additionally, Dudley's 57 home runs rank second in Cornbelters' history (59, Pat McKenna).

He has hit over .300 with at least 10 home runs, 60 RBI and an on-base percentage over .400 in each of his last four seasons as an everyday player, including a career-high .346 batting average in 2015. He finishes his illustrious Frontier League career with a .317 batting average over 394 games.

"Aaron will be a great addition to our 2018 squad," said Somerset Patriots manager Brett Jodie. "He comes as a highly-touted defensive first baseman with the evasive combination of power, average and a low-strikeout rate to our lineup. Aaron will be a nice lefty presence in our batting order and, even more important, he brings the right attitude to our club."

The Toledo, Ohio native spent the first three-and-a-half years of his professional career in the Miami Marlins organization before he signed with Normal in 2013. Dudley played his college ball at Toledo University, where he still ranks as the program's all-time leader in RBI (150).

Dudley owns a .302 batting average with 69 home runs, 377 RBI and a .399 on-base percentage over his eight-year professional career.

The Somerset Patriots led the Atlantic League in attendance and made their 14th appearance in the playoffs last season. The Somerset Patriots will welcome their 7,000,000th fan in their 20th season at TD Bank Ballpark in 2018. Tickets are now on sale for the 2018 Season presented by Ford beginning at home on Friday, April 27th. For more information, please visit www.somersetpatriots.com.

About The Atlantic League of Professional Baseball (ALPB)

The Atlantic League has been a leader in professional baseball and a gateway to Major League Baseball since 1998. Over 38 million fans have attended Atlantic League games and more than 900 players and 50 managers and coaches have joined MLB organizations directly from the ALPB. The Atlantic League emphasizes winning baseball games, showcasing the talent of top-caliber players and offering affordable family entertainment.

For more information, please visit www.atlanticleague.com.

###