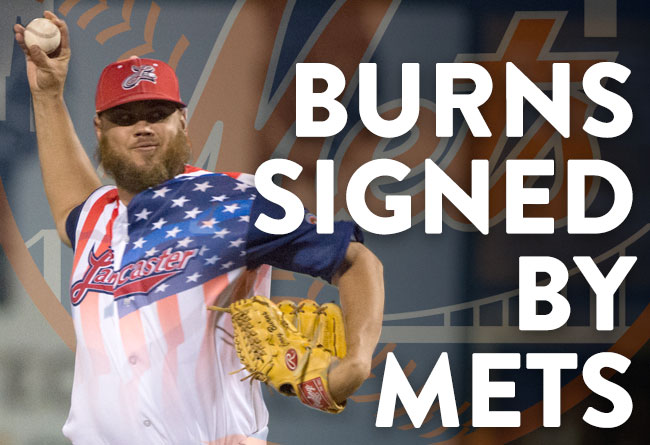 Closer becomes third 2016 Barnstormer to sign organizational contract

(Lancaster, Pa., Dec. 20, 2016) - Lancaster Barnstormers relief ace Cory Burns has signed a 2017 contract with the New York Mets organization.

Burns, 29, appeared in 55 games for the Lancaster Barnstormers in 2016, saving 31 games, the second highest single season total in franchise history, with a 2.17 ERA. The right-hander from Arizona converted all but three save opportunities during the 2016 season and was perfect in save chances at home at Clipper Magazine Stadium.

In 54 innings, the former San Diego Padre and Texas Ranger yielded only 50 hits and eight walks while striking out 60. He gave up two home runs, both on the road.

For his efforts, Burns was named the 2016 Player of the Year by Barnstormers fans.

Prior to coming to Lancaster, Burns had appeared in 27 big league games with San Diego and Texas in the 2012 and 2013 seasons, going 1-1 with a 4.60 ERA. During his minor league tenure with the Cleveland Indians organization, he saved 88 games in his first 2 ½ years, leading the Carolina League with 30 in 2010 and the Eastern League with 35 in 2011.

"I get to continue to do what I love, and that's play baseball," said Burns. "I can't thank the Mets enough for giving me a second chance. But it would not be possible without my time in Lancaster. What a great city and amazing fans."

"Cory had a very good year for us," said 'Stormers manager Ross Peeples. "He always took the ball when asked and is very deserving of another opportunity to get back to the big leagues."

Burns is the second member of the 2016 squad that ended the season in Lancaster to be signed by a Major League organization this week. Earlier in the week, the Chicago White Sox announced the signing of outfielder Caleb Gindl. Previously, the White Sox had inked first baseman K.C. Hobson to a 2017 minor league contract.

About the Lancaster Barnstormers

The Lancaster Barnstormers are entering their 13th season as a member of the Atlantic League of Professional Baseball. Home games are played at Clipper Magazine Stadium in downtown Lancaster, Pennsylvania. Please call 717.509.HITS (4487) or visit www.lancasterbarnstormers.com for more information.

About the Atlantic League of Professional Baseball (ALPB)

The Atlantic League has been a leader in professional baseball and a gateway to Major League Baseball since 1998. Over 36 million fans have attended Atlantic League games and more than 800 players and 50 managers and coaches have joined MLB organizations directly from the ALPB. The Atlantic League emphasizes winning baseball games, showcasing the talent of top-caliber players and offering affordable family entertainment to metropolitan markets serving nearly 15% of the US population.

For more information, please visit www.atlanticleague.com.

###