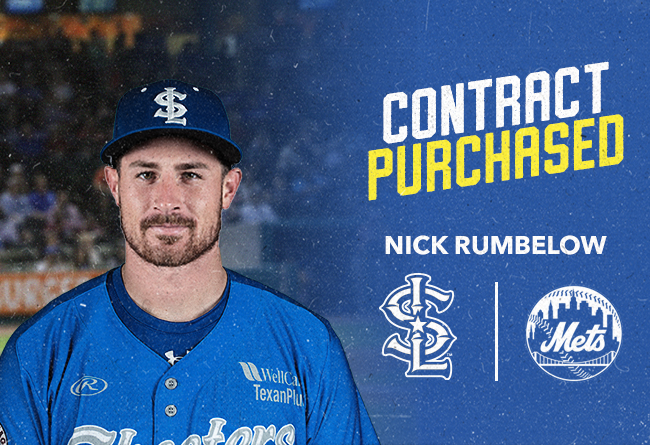 Skeeters Set Franchise Single-Season Record With 13 Contracts Purchased by MLB Organizations

(Sugar Land, Texas, Aug. 19, 2019) – The Skeeters today announced that the contract of right-hander Nick Rumbelow has been purchased by the New York Mets.

The Skeeters have set their single-season record with 13 contracts purchased by Major League Baseball organizations. They've also added to their single-season contracts purchased record with a total of 16 from outside professional baseball organizations this season. Both figures lead the Atlantic League of Professional Baseball in 2019 as well.

The following players have had their contracts purchased from the Skeeters roster by MLB teams this season: OF Cody Asche (BOS), IF Ryan Court (SEA), RHP Christian Bergman (SEA), RHP Andrew Bellatti (NYY), OF Courtney Hawkins (SFG), RHP Joe Lienhard (KCR) IF Will Maddox (SFG), OF C.J. McElroy (SFG), Kevin McGowan (WSN), RHP Felipe Paulino (HOU), RHP Nick Rumbelow (NYM), RHP Mitch Talbot (CLE) and RHP Konner Wade (BOS).

Right-handers Michael Mariot (Tijuana) and Matt Ramsey (Tijuana), and infielder O'Koyea Dickson (Durango), have had their contracts purchased by the Mexican League.

The Skeeters have had 25 contracts purchased by MLB teams over the last two seasons, which are the most of any independent league baseball team.

Rumbelow, 27, has gone 3-0 with a 0.81 ERA and seven saves in 22 appearances with the Skeeters, striking out 31 batters in 22 ⅓ innings pitched. Rumbelow was tied for ninth in the Atlantic League with seven saves and held opponents to a .203 average.

Rumbelow began 2019 in the Seattle Mariners system, making three relief appearances at the Major League level and going 3-2 with an 8.17 ERA in 19 games (25.1 IP) with Triple-A Tacoma. He owns three seasons of Major League experience, pitching with the New York Yankees (2015) and the Seattle Mariners (2018-19). He's gone 1-1 with a 5.97 ERA in 33 games at the Major League level, striking out 33 batters to 12 walks in 34 ⅔ innings pitched.

A native of Bullard, Texas, Rumbelow made his MLB debut on June 23, 2015, against the Philadelphia Phillies and picked up his first Major League strikeout against Cameron Rupp. The New York Yankees selected Rumbelow in the seventh round of the 2013 MLB Draft out of Louisiana State University.

Rumbelow was rated as the Mariners' No. 15 prospect prior to the 2018 season and as the Mariners' No. 24 prospect prior to the 2019 season, per MLB Pipeline. He's gone 18-10 with a 3.27 ERA and 31 saves in 160 games at the affiliated minor league level, striking out 251 batters in 220 ⅓ innings pitched.

The Skeeters have clinched a 2019 postseason berth and have chosen "Come and Take It" as their postseason theme, in honor of the Battle of Gonzales. Playoff tickets go on sale on Aug. 2 and visit sugarlandskeeters.com/playoffs for more information on playoff dates and ticket packages.

The Skeeters, winners of the 2018 Atlantic League Championship, enter their eighth season of play in the Atlantic League of Professional Baseball at Constellation Field. Individual tickets, season tickets and mini-plans for the 2019 season are currently available and can be purchased by visiting sugarlandskeeters.com, the TDECU Ticket Office at Constellation Field, or by calling the Skeeters at 281-240-4487.

Visit SugarLandSkeeters.com and follow us on Facebook, Instagram and Twitter (@SL_Skeeters) for all the latest team news and the latest on events to be hosted at Constellation Field.

All Skeeters home games can be streamed live on the Skeeters Youtube page or can be listened to live by visiting sugarlandskeeters.com.

About the Sugar Land Skeeters

The Skeeters play at Constellation Field, a state-of-the-art stadium located at the intersection of State Highway 6 and U.S. Highway 90A in Sugar Land. The Skeeters are a member of the Atlantic League of Professional Baseball (ALPB) and play 140 regular-season games. The Skeeters Baseball Foundation promotes youth education and healthy activities lifestyles by providing support to culturally, racially and economically diverse areas of the community. For more information please call 281-240-4487 or visit sugarlandskeeters.com.

About The Atlantic League of Professional Baseball (ALPB)

With eight teams in Texas and the Mid-Atlantic, the ALPB is a leader in baseball innovation and a player gateway to Major League Baseball. Through its exclusive partnership with MLB, the Atlantic League tests Major League Baseball rules and equipment initiatives. The Atlantic League has sent over 900 players to MLB organizations while drawing more than 40 million fans to its affordable, family-friendly ballparks throughout its 22-year history.

For more information, please visit www.AtlanticLeague.com.

###