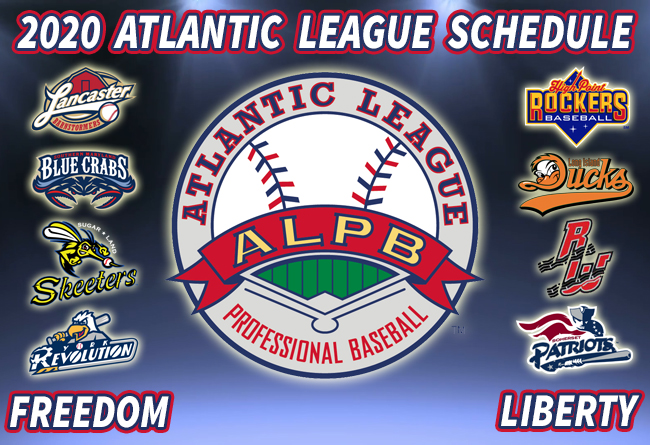 23rd ALPB season to begin on April 30 and conclude on September 20

(Lancaster, Pa., Oct. 28, 2019) – The Atlantic League of Professional Baseball (ALPB) today announced its Championship Season Schedule for 2020.

"After a tremendously exciting and competitive 2019 season, I think all of our clubs and fans can expect more of the same in 2020," said Atlantic League President Rick White. "We are happy to announce this season's slate of games and are already looking forward to Opening Day."

The 2020 season will feature a 126-game schedule that begins on Thursday, April 30, and ends on Sunday, September 20. Eight member clubs will make up the Atlantic League, including the Road Warriors, who will enjoy the distinction of playing each of their games on the road. The league has utilized the Road Warriors in a number of seasons past, most recently in 2018, and the ALPB expects to return to a full complement of eight home communities in 2021.

During the 2020 season, the Road Warriors will be members of the Liberty Division in the place previously occupied by the New Britain Bees, who will now be operating in the Futures Collegiate Baseball League. The Liberty Division will continue to include the High Point Rockers, Long Island Ducks and Somerset Patriots. The Freedom Division's four clubs remain the same: the Lancaster Barnstormers, Southern Maryland Blue Crabs, Sugar Land Skeeters and York Revolution.

Following are the dates for each team's Season Opener and Home Opener:
| | | |
| --- | --- | --- |
| TEAM | SEASON OPENER | HOME OPENER |
| High Point Rockers | April 30 vs. Southern Maryland | April 30 vs. Southern Maryland |
| Lancaster Barnstormers | May 1 at Long Island | May 8 vs. Long Island |
| Long Island Ducks | May 1 vs. Lancaster | May 1 vs. Lancaster |
| Road Warriors | May 1 at Somerset | N/A |
| Somerset Patriots | May 1 vs. Road Warriors | May 1 vs. Road Warriors |
| Southern Maryland Blue Crabs | April 30 at High Point | May 8 vs. High Point |
| Sugar Land Skeeters | April 30 vs. York | April 30 vs. York |
| York Revolution | April 30 at Sugar Land | May 8 vs. Road Warriors |
The 23rd Annual Atlantic League All-Star Game will take place on Wednesday, July 15th, hosted by the Blue Crabs at Regency Furniture Stadium in Waldorf, Md. 2020 marks the second time the Blue Crabs will host the All-Star Game, previously doing so in 2013.

The ALPB schedule is divided into two 63-game halves, with the first half ending on Thursday, July 9, and the regular season ending on Sunday, September 20. The first half and second half champions from the Liberty and Freedom Divisions will qualify for 2020 Atlantic League championship playoffs. Should one team win each half in their respective division, a wild card scenario comes into play where the team with the next best overall record, regardless of division, qualifies for the postseason. If both first half division champions win the second half as well, a double wild card scenario will be instituted. Both Division Championship Series matchups will take place the week of September 21, with the Atlantic League Championship Series occurring during the week of September 28.

To view each club's 2020 regular season schedule, please visit their respective websites.

About The Atlantic League of Professional Baseball (ALPB)

With eight teams in the Mid-Atlantic and Texas, the ALPB is a leader in baseball innovation and a player gateway to Major League Baseball. Through its exclusive partnership with MLB, the Atlantic League tests Major League Baseball rules and equipment initiatives. The Atlantic League has sent over 950 players to MLB organizations while drawing more than 42 million fans to its affordable, family-friendly ballparks throughout its 22-year history.

For more information, please visit www.AtlanticLeague.com.

###