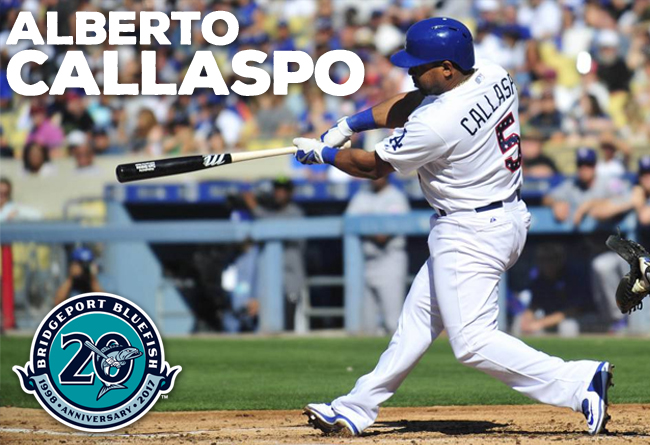 Infielder Alberto Callaspo joins Bluefish for 20th Anniversary Season

(Bridgeport, Conn., March 28, 2016) – Bridgeport Bluefish team officials have announced that 10-year MLB vet Alberto Callaspo will join the team for the 2017 season.

"Alberto has tremendous experience with big league clubs and will be an asset both on and off the field," says Bluefish General Manager Paul Herrmann. "We believe that the knowledge he has gained throughout his years playing will translate to the Atlantic League and push us closer towards our goal of winning a championship ring."

Alberto Callaspo joins the Bluefish for his first season in the Atlantic League and 15th of professional baseball. He last played in 2015, splitting time between the Atlanta Braves and Los Angeles Dodgers. In 97 combined games, he hit .235 with one home run, 15 RBI and 20 runs scored.

The Venezuela-native made his professional debut in 2002 with Rookie-level Provo of the Pioneer League (Anaheim Angels). He spent four seasons with the Angels organization before joining the Arizona Diamondbacks in 2006, making his Major League debut. He has also spent time with the Kansas City Royals, Oakland Athletics, Atlanta Braves, and Los Angeles Dodgers. In 1,093 combined games across 10 seasons in the MLB, he collected a .265 batting average with 52 home runs, 369 RBI, and 391 runs scored.

In 659 career minor league games, Alberto owns a .316 batting average with 35 home runs, 356 RBI, 462 runs scored, and 68 stolen bases.

About the Bridgeport Bluefish

The Bridgeport Bluefish are members of the Atlantic League of Professional Baseball and play their home games at The Ballpark at Harbor Yard. For further information, call 203-210-BLUE (2583) or visit www.BridgeportBluefish.com.

About the Atlantic League of Professional Baseball (ALPB)

The Atlantic League has been a leader in professional baseball and a gateway to Major League Baseball since 1998. Over 36 million fans have attended Atlantic League games and more than 800 players and 50 managers and coaches have joined MLB organizations directly from the ALPB. The Atlantic League emphasizes winning baseball games, showcasing the talent of top-caliber players and offering affordable family entertainment to metropolitan markets serving nearly 15% of the US population.

For more information, please visit www.AtlanticLeague.com.

###