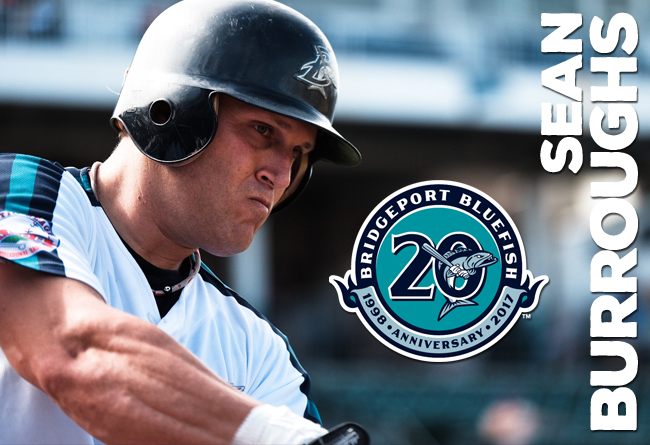 Infielder Sean Burroughs returns to Bridgeport for fourth campaign with 'Fish

(Bridgeport, Conn., Jan. 24, 2017) – The Bridgeport Bluefish today announced that Sean Burroughs will return to Bridgeport for the 2017 season.

Burroughs returns for his fourth season with the Bluefish and 16th of professional baseball. During his second year in Bridgeport in 2015, he was traded to the Long Island Ducks, also of the Atlantic League, and finished the season as the league's batting champion with a .340 average. The former Major Leaguer came back across the pond midway through the 2016 campaign, and finished the season with a .322 batting average with one home run, 27 RBI and 39 runs scored in 81 games.

"Sean has been an extremely important asset to our club for the last three seasons," says Bluefish General Manager Paul Herrmann. "He brings with him a tremendous amount of experience and we are thrilled to have him back with us."

The 36-year-old has played seven years in the big leagues, appearing with the San Diego Padres, Tampa Bay Devil Rays, Arizona Diamondbacks and Minnesota Twins. In 528 Major League games, he has compiled a solid .278 batting average with 187 runs scored, 68 doubles, 12 triples, 12 home runs and 143 RBI.

Sean, the son of former Major Leaguer Jeff Burroughs, began his career with the San Diego Padres organization after being selected in the first round (ninth overall) of the 1998 MLB Draft. He was also named the MVP of the 2000 MLB Futures Game.

Over the course of 865 minor league contests, the veteran has comprised a .314 batting average with 32 home runs, 394 RBI, and 393 runs scored.

About the Bridgeport Bluefish

The Bridgeport Bluefish are members of the Atlantic League of Professional Baseball and play their home games at The Ballpark at Harbor Yard. For further information, call 203-210-BLUE (2583) or visit BridgeportBluefish.com.

About the Atlantic League of Professional Baseball (ALPB)

The Atlantic League has been a leader in professional baseball and a gateway to Major League Baseball since 1998. Over 36 million fans have attended Atlantic League games and more than 800 players and 50 managers and coaches have joined MLB organizations directly from the ALPB. The Atlantic League emphasizes winning baseball games, showcasing the talent of top-caliber players and offering affordable family entertainment to metropolitan markets serving nearly 15% of the US population.

For more information, please visit www.AtlanticLeague.com.

###