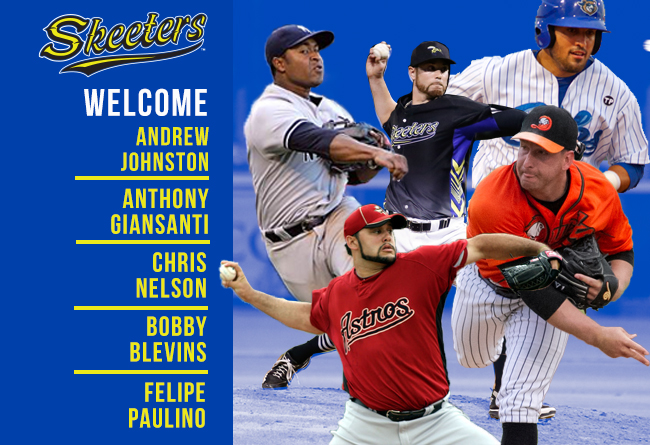 Johnston, Giansanti, Nelson, Blevins and Paulino further expand roster

(Sugar Land, Texas, April 6, 2017) - The Sugar Land Skeeters announced today that the club has resigned 2016 Atlantic League All-Star pitcher Andrew Johnston and signed infielders Anthony Giansanti, Chris Nelson, and pitchers Bobby Blevins and Felipe Paulino for their first season with the Skeeters.

Johnston returns for his third full season (fourth overall) in Sugar Land after joining the team in 2014 from the Camden Riversharks (ALPB). The 32-year-old right-hander last season was 5-2 with a 1.78 ERA in 61 relief outings. He was originally drafted in 2003 by the Cleveland Indians (26th round) out of Jefferson College (Hillsboro, MO), and again in 2005 by the Colorado Rockies (9th round) out of the University of Missouri Columbia (Columbia, MO). He advanced as high as Triple-A with the Colorado Springs Sky Sox in 2010-11 and has three 20+ save seasons, including a career-high 31 in 2009 with the Tulsa Drillers (COL).

In 2014 and 2016 Johnston was named an Atlantic League All-Star with Sugar Land and helped the team to its first ever Atlantic League Championship in franchise history last season, allowing no runs and just one hit through four appearances out of the bullpen in the playoffs. Johnston has a career 9-4 record with the Skeeters and a 2.40 ERA with four saves in 142 relief appearances. He is 12-8 in five seasons of independent baseball with a 3.76 ERA in 206 games.

Infielder Anthony Giansanti, 28, joins the Skeeters after spending the majority of last season with the Bridgeport Bluefish where he batted .245 with six home runs and 35 RBI in 91 games. He was drafted by the Chicago Cubs in 2009 (49th round) and spent six full seasons (2010-2016) with the organization, advancing as high as Triple-A with the Iowa Cubs. Giansanti owns a career batting average of .254 with 25 home runs, 218 RBI and 78 doubles. In both his junior and senior years at Siena College (Loudonville, NY), Giansanti hit over .355 and had over 10 home runs each season.

Nelson, 31, makes his debut with the Skeeters after spending last season in Triple-A with the Colorado Rockies organization. The infielder was drafted by the Rockies (1st round, 9th overall) in 2004 out of Redan High School (Stone Mountain, GA) and would spend six full seasons with the organization, batting .277 with 87 home runs and 570 RBI in 282 minor league games. Nelson made his major-league debut with Colorado in 2010 against the Milwaukee Brewers as a replacement for the injured Troy Tulowitzki. While with the Rockies in 2012, he batted .301 with nine home runs and 53 RBI over 111 games and won the National League Player of the Week on September 16, 2012. Over the span of five years (2010-2014) Nelson also spent time in the majors with the New York Yankees, the Los Angeles Angels of Anaheim and the San Diego Padres. He has a major league career .265 batting average with 16 home runs and 100 RBI in 282 games.

Blevins, 32, spent the past six seasons in independent ball, five with the Long Island Ducks. He had his best season with the Ducks in 2014, going 9-5 with a 2.95 ERA (best among Ducks starters) in 27 starts, three complete games and was sixth in the Atlantic League with 119 strikeouts. Blevins helped the Ducks capture the Atlantic League championships in 2012 and 2013. With 10 years of professional baseball experience, Blevins has a minor league career 4.11 ERA in 247 games, 197 starts and 21 CG. The right-hander played college ball at Le Moyne College (Syracuse, NY) and was drafted by the Los Angeles Dodgers in 2007 (13th round). Blevins spent four years with the organization and reached as high as Triple-A with the Albuquerque Isotopes in 2010. He spent two seasons with Navegantes del Magallanes in the Venezuelan Winter League and played with Carlos Zambrano, Rougned Odor and former Skeeter Dustin Richardson.

Paulino brings veteran leadership to the Skeeters pitching staff in 2017 with over 14 years of professional baseball experience. The 33-year-old right-hander is no stranger to the Houston area after originally being signed by the Houston Astros as an undrafted free agent in 2001 and made his major league debut in 2007 with the club against the Milwaukee Brewers. He spent parts of three seasons at the big league level with the Astros (2007, 2009, 2010) and six seasons total in major league baseball with the Colorado Rockies (2011), Kansas City Royals (2012) and Chicago White Sox (2014). While with the Royals in 2012, he owned a 3-1 record with a 1.67 ERA in seven starts before suffering an injury. He has appeared in 97 major league games, 65 starts and has a 5.22 ERA with 373 strikeouts. Last season, he played for the Saitama Seibu Lions in the Japanese League and made nine starts.

About the Sugar Land Skeeters

The Skeeters play at Constellation Field, a state-of-the-art stadium located at the intersection of State Highway 6 and U.S. Highway 90A in Sugar Land. The Skeeters are a member of the Atlantic League of Professional Baseball (ALPB) and play 140 regular season games. The Skeeters Baseball Foundation promotes youth education and healthy activities lifestyles by providing support to culturally, racially and economically diverse areas of the community. For more information please call 281-240-4487 or visit sugarlandskeeters.com.

About the Atlantic League of Professional Baseball (ALPB)

The Atlantic League has been a leader in professional baseball and a gateway to Major League Baseball since 1998. Over 36 million fans have attended Atlantic League games and more than 800 players and 50 managers and coaches have joined MLB organizations directly from the ALPB. The Atlantic League emphasizes winning baseball games, showcasing the talent of top-caliber players and offering affordable family entertainment to metropolitan markets serving nearly 15% of the US population.

For more information, please visit www.AtlanticLeague.com.

###