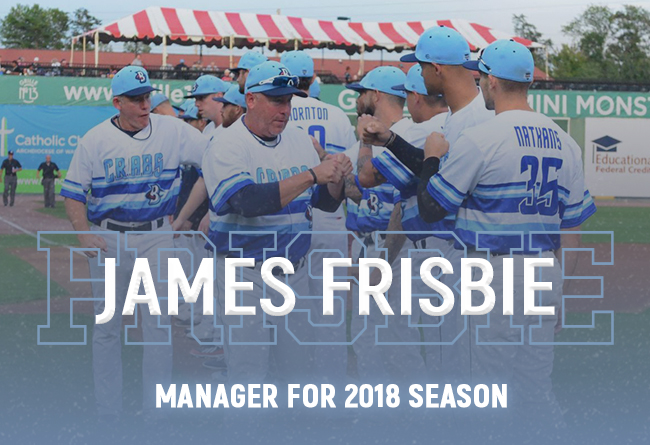 (Waldorf, Md., Nov. 16, 2017) - The Southern Maryland Blue Crabs announced today they have officially removed the "interim" tag on manager James Frisbie and he will return as manager for the 2018 season.

Frisbie began the 2017 season as the Blue Crabs Pitching Coach. He took over the helm in early August and led the team to the First Half Freedom Division Championship.

"We are very pleased James will be returning to the team in 2018," said Courtney Knichel, Blue Crabs General Manager. "We believe he can lead the team to our ultimate goal, which is to bring an ALPB Championship to Southern Maryland."

"I would like to thank Blue Crabs upper management for the opportunity to manage this team during the 2018 season," said Frisbie. "I know there are many quality candidates to manage in the Atlantic League and it's an honor and a privilege to manage this ball club again. I look forward to starting the process in building a strong team for the 2018 campaign."

Besides the last two months of the 2017 ALPB season, Frisbie's previous skipper duties were managing the Texas Air Hogs of the American Association in 2016. In 2013, Frisbie was named the team manager for the Rockford Aviators and was the manager of the 2015 Frontier League All-Star game.

As a player, the left-handed pitcher was signed by the Alexandria Aces in the Texas-California League in 1998. Frisbie was on staff with the Rio Grande Valley White Wings, the Jackson Senators of Central Baseball League and with the Chillicothe Paints in the Frontier League.

The 2018 Home Opener is April 27, 2018. For more information on the Southern Maryland Blue Crabs, please visit our website at somdbluecrabs.com or call us at 301-638-9788.

About the Southern Maryland Blue Crabs

The Blue Crabs play 140 regular season games in the Atlantic League of Professional Baseball Clubs. The Blue Crabs play at Regency Furniture Stadium in Waldorf, Maryland with affordable family fun. The franchise will begin its 11th season in April 2018. Please call 301-638-9788 or visit http://www.somdbluecrabs.com for more information.

About the Atlantic League of Professional Baseball (ALPB)

The Atlantic League has been a leader in professional baseball and a gateway to Major League Baseball since 1998. Over 38 million fans have attended Atlantic League games and more than 900 players and 50 managers and coaches have joined MLB organizations directly from the ALPB. The Atlantic League emphasizes winning baseball games, showcasing the talent of top-caliber players and offering affordable family entertainment to metropolitan markets serving nearly 15% of the US population.

For more information, please visit www.AtlanticLeague.com.

###